A century since WWI, world slides into war again – Peter Kuznick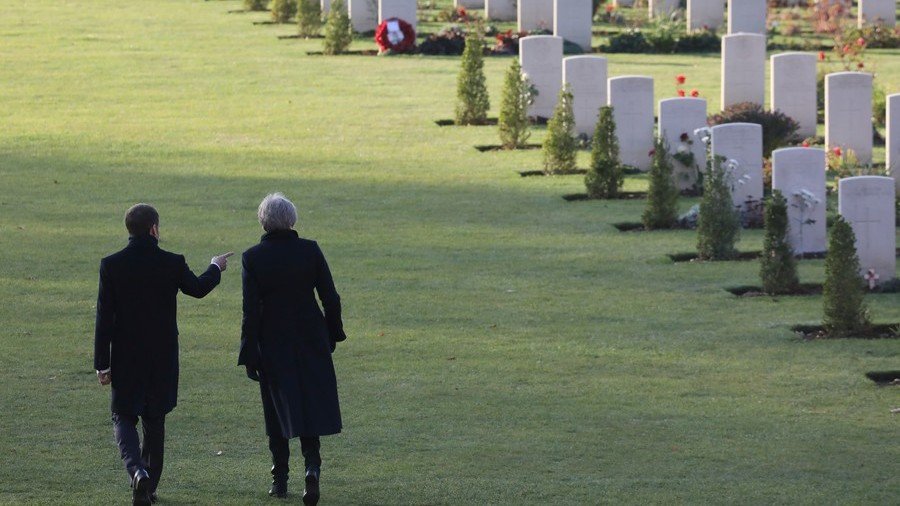 Our world leaders don't learn the lessons of history: with countries conducting the largest military drills in decades and modernizing its nuclear arsenals the world is rapidly sliding into war again, Prof. Peter Kuznick told RT.
Vladimir Putin and Donald Trump were among the heads of state attending events to mark the centenary of the end of WWI in Paris on Sunday. While the Russian and American leaders didn't have an actual meeting, they still managed to grab headlines for what was described as 'over-friendly' body language.
Ahead of Armistice Day Trump had criticized France's President Emmanuel Macron over his proposal to create a European army calling it "insulting." However, in Paris they glossed over any differences and agreed on more defense spending for Europe.
RT discussed the issue with Professor Peter Kuznick, a historian and co-author with Oliver Stone of 'The Untold History of the United States'.
RT: A top Kremlin aide has said that the French government was opposed to a meeting between Trump and Putin in Paris. Why would that have been? Was it right for them not to meet?
Peter Kuznik: The French made it clear that they didn't want Trump and Putin to steal the funfair of the commemorative event. So that was clear why they were there – they were there to commemorate the hundredth anniversary of the end of WWI. It does make sense that they were going to postpone that meeting since they'll have another opportunity very shortly. But the world is in a serious situation now – and we need to be speaking to each other. As long as they are serious about having that discussion, especially in the light of Trump's statements that he wants to withdraw the US from the INF treaty. The relations between the US and Russia are at a low point. We need to be talking; we need to be coming to a certain understanding and certain agreements.
RT: How do you think Trump must have felt about Macron's warning about the resurgence of nationalist forces and to what extent was the comment aimed at the US President?
PK: I think the comment was largely aimed at the US president. But there are other nationalist forces rising in the world who also pose a threat to the global community. And Trump is the one who has recently openly embraced nationalism, repudiated internationalism, repudiated one treaty and agreement after another, including trade pacts but especially on the nuclear front. And if we put that in the context …worsening relations between the US and Russia, but also we have the worsening the relations between the US and China. We've got country after country conducting the largest military exercises, largest war games in decades. This should not be forgotten. The broader context is that the world is rapidly sliding into war again. The lessons, the commemoration of WWI, that ghastly war, the horrific war in which tens of millions of people died, which upset the international order, which paved a way towards even more terrible things that were going to come, we have to learn the lessons. The problem is that our leaders don't learn the lessons of history.
RT: Trump and Macron found themselves at odds this week over Macron's proposal for a European army. How would a European army affect the global balance of power and do you think it would be a force for peace?
PK: I think that we are already over militarized on this planet. I think the fact is that every nuclear power is modernizing its nuclear arsenal, the US is spending up to 1.7 trillion to modernize its nuclear arsenal, Russia and China are doing the same. The broader question is in what context,if that means more defense spending, more military spending. If there is a European army, I would like to see a completely defensive army. I would like to then see rebalancing between the US and Europe in terms of the role played by NATO. And the reason why the Europeans think they need their own army is because they find Trump to be so untrustworthy. Trump has made very negative statements about NATO but beyond that by pulling the US out of the Iran nuclear deal. That was a really sobering move on the US part for the Europeans. By Trump's trade wars with Europe, Europeans know the US can't be trusted now. This is part of why you see the image of the US declining so rapidly around the world but we also see these other polarizing forces. We see the rise of right-wing nationalism in many parts of Europe. In a broader context with the world pulling apart, this gathering in Paris was so symbolically important. But we need some agreements, we need some real statesmanship, we need more international conferences. We need to be talking rather than aiming guns. More and more military exercises, more and more military spending, in that sense, I am not thrilled by the idea of a European army. As critical as I am of NATO, and the expansion of NATO, I think we have to be finding ways to actually diffuse tensions and cut back on our militaries, not modernize that what we are doing and not expanding.
Think your friends would be interested? Share this story!
You can share this story on social media: