Who is Trolleyman?: Twitter hails mysterious hero who stopped Melbourne attacker in his tracks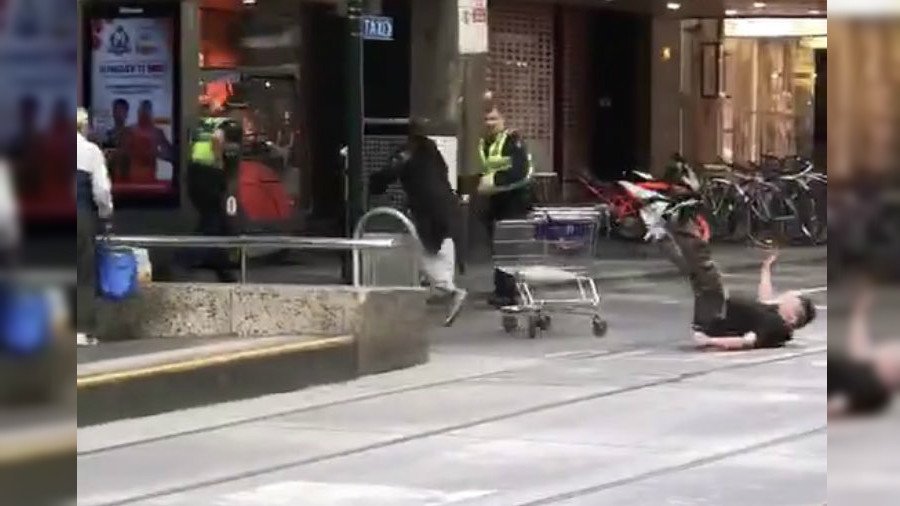 Australians are loving the man who stopped the Bourke Street attacker in Melbourne using only a shopping cart. The mysterious 'Trolleyman' is being dubbed a hero, with some even calling for a statue in his honor.
READ MORE: Knife rampage leaves 1 dead & 2 injured in Melbourne, terrorism probe opened (PHOTO, VIDEO)
The unnamed man used his shopping trolley to try to stop a knife-wielding attacker in his tracks on Friday, and his quick thinking was captured on video. The assailant had just stabbed three people and was trying to escape police at the time.
Trolleyman pushed a shopping cart at the attacker, which slowed him down, but unfortunately also sent the would-be crimefighter to the ground. Moments later, he managed to shove his trolley at the attacker again.
The man is being hailed a hero on social media and #trolleyman is trending in Australia as people ask, 'who is Trolleyman?'
As is common in these type of events, people are less concerned about finding out details about the attacker than they are about learning about Trolleyman and another man who tried to help by brandishing a chair.
Many Australians contrasted Trolleyman's actions to those of the bystanders who decided to film the incident instead of helping.
However, a few people weren't impressed, saying his actions could have made things more difficult for the police who were trying to apprehend him.
Like this story? Share it with a friend!
You can share this story on social media: