Knife rampage leaves 1 dead & 2 injured in Melbourne, terrorism probe opened (PHOTO, VIDEO)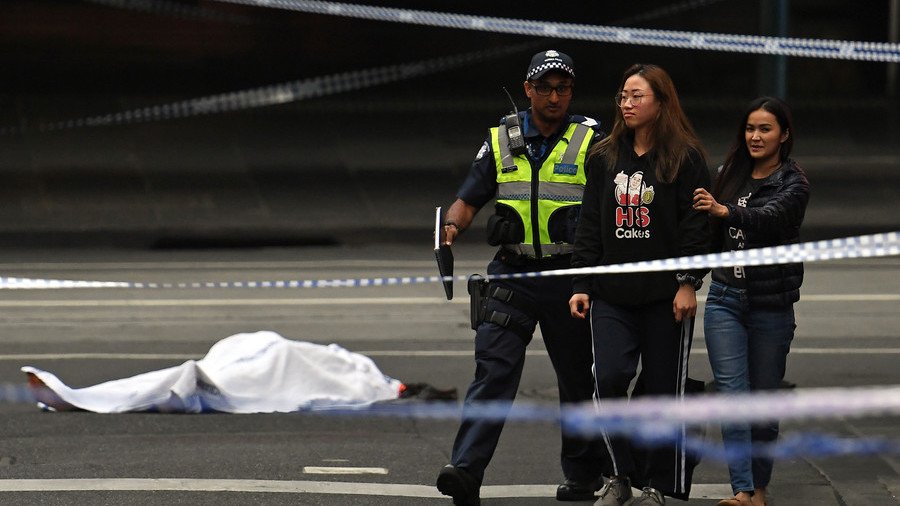 One person has been killed and two others wounded as a knife-wielding man went on a rampage in a busy street in central Melbourne. Police have opened a counter-terrorism probe following the assault.
Victoria Police responded to a major incident on Friday afternoon on Bourke Street in Melbourne, Australia. The officers were initially called in over reports of a fire, but when they arrived and got out of the car, they were "confronted by a male brandishing a knife and threatening them," Superintendent David Clayton told reporters.
The perpetrator was known to police and the federal intelligence authorities, Chief Commissioner Graham Ashton told media.
"What we know so far about the individual… from what we know we are treating this as a terrorism incident," Chief Commissioner Graham Ashton told media. Elaborating on the details about the man's identity, officials said he came to Australia from Somalia in the 1990s, yet stopped short of giving more information.
The suspect's family is also "well known" to authorities from a "terrorism perspective."
It is reported that the attacker burned a car before starting his knife attack. Some witnesses claim they saw a car driving at high speed and crashing after missing a tram, according to ABC. Others reportedly saw the suspected driver getting out of the car and throwing "something like a bomb" inside before it caught fire.
There is still no clear understanding of how the fire in the car started, though police revealed the attacker had "barbecue-style gas cylinders" inside the vehicle.
Videos with the burning vehicle in the background have surfaced online, apparently showing the moment officers approached the suspect. The attacker is seen viciously stabbing at the officers, who at first tried to calm him down.
A total of three people were stabbed during the assault, police revealed during a press conference. One of the victims later succumbed to the injuries, while two others are still receiving treatment.
The suspect died at the hospital, police confirmed later on Friday.
Witnesses say they heard one bang or multiple bangs and gunshots in the area, which was subsequently put on lock down.
Stabbings are not frequently reported in Australia. However, its European allies, including the UK, Germany, and France, have faced a wave of such attacks in recent years. One of the latest stabbings occurred in Ravensburg, in southwestern Germany in September, which left several people injured. Less than two weeks before the incident in Germany, a knife-wielding man was arrested after he assaulted a police officer in Brussels.
You can share this story on social media: