#Romanovs100 wins Drum Award for 'Best News & Media Content Strategy'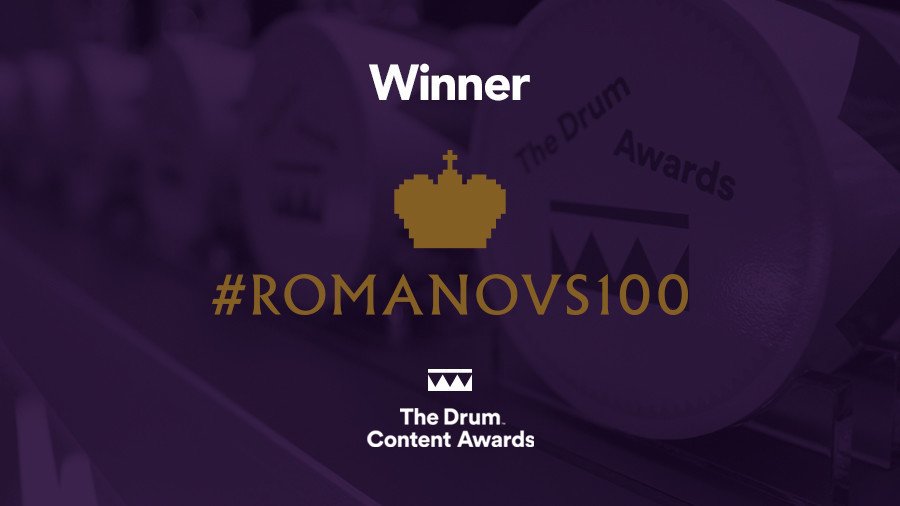 #Romanovs100 took gold in the 'News/Media/Publishing Content Marketing Strategy/Campaign' at the Drum Content Awards in London while #1917LIVE was awarded highly commended for 'Most Innovative or Creative Use of Content'.
Both projects are social media-based narratives dedicated to Russian history. #1917LIVE, about the Russian Revolution, played out in 2017 and has won over 20 prestigious awards, including a three-time Cannes Lions nomination, a Webby and a Shorty. #Romanovs100 ran for 100 days in 2018 as an unfolding image-based story about the last reigning royal family of Russia – in 4000 photographs that they took themselves.
The prestigious Drum Awards aim to identify the best practices, companies and people in the creative industry. This year's jury included representatives from such world famous brands as Vice Media, Bloomberg Media Studios, LinkedIn, Lego, Samsung, and Burger King.
READ MORE: RT lands 4 nominations at 2018 Epica Awards for #Romanovs100 and #1917LIVE
Last week #1917LIVE won its 22nd award - for 'Best Use of Social' at Digiday Marketing & Advertising Awards Europe. #Romanovs100 just released an original soundtrack written for the project by famous Russian musician Peter Nalitch.
READ MORE: OST #Romanovs100: The life and death of the Romanov family in music by Peter Nalitch
You can share this story on social media: