Le Pen's Eurosceptic party beats Macron's in EU parliamentary election poll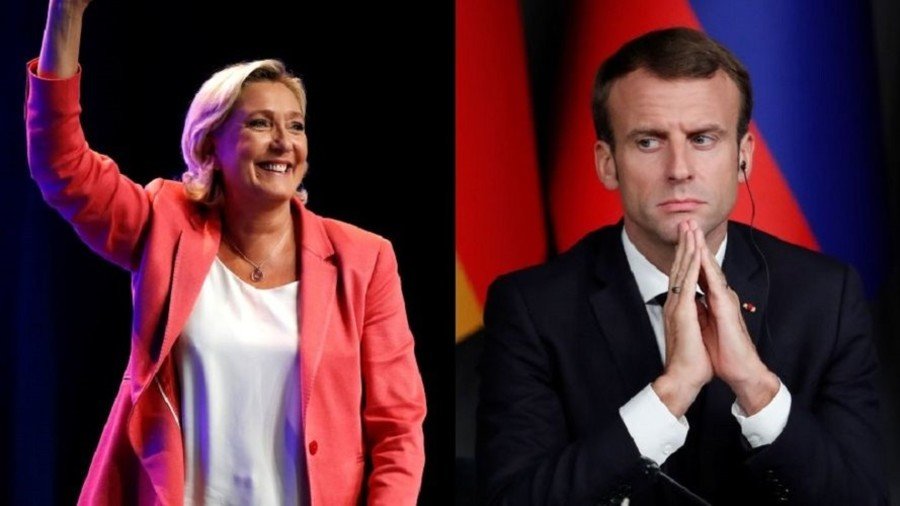 The landslide success of Emmanuel Macron's party seems to be fading away as the party of his presidential rival, Marine Le Pen, is overtaking his ruling alliance six months ahead of European parliamentary elections, a poll shows.
With his ratings rapidly plummeting, the centrist leader who was once the rising star of French politics is losing his position. According to the Ifop poll on Sunday, the centrist's La Republique En Marche (LREM) party scored second when people were asked on their voting intentions for May 2019 European Parliament election.
The ruling party appears to be outpaced by the alliance of Macron's former presidential rival –Eurosceptic Marine Le Pen. Her National Rally (formerly Front National) gathered 21 percent of the voters against LREM's 19 percent. Le Pen and Macron faced off in the second round of the 2017 presidential election. Back then the current president won with a landslide 66 percent against Le Pen't 33 percent.
Le Pen apparently hopes to repeat the success of the 2014 European parliament election, when her party gained nearly a quarter of the votes. Macron's party didn't take part in that election, as LREM was founded only in 2016.
50-year-old Le Pen has repeatedly slammed Macron's policies on the migrant crisis, calling them "crazy." "There is no money for the French, but there is money for migration," she once said. The politician also advocates for breaking away from the European Union and moving towards a union of individual nations. "The European Union is not Europe… it is not the real Europe that we want," she said earlier, calling the bloc "an ideological structure" and "an institution governed by an anonymous authority."
An Ifop poll conducted in late October revealed disappointing results for France's 40-year-old 'Jupiter', with only 29 percent of the population satisfied with Macron's policies. The statistics come amid a string of ministerial resignations, scandal over a bodyguard's violence and discontent over the leader's lavish lifestyle.
READ MORE: 'They don't do it for fun': Macron slammed for telling retirees to stop moaning about pension cuts
"Emmanuel Macron has crashed into a brick wall of reality. His hold on national politics is waning, as is his influence. He's losing control of his government," the parliamentary leader of the Republicans, Christian Jacob, predicted earlier.
Whether or not the prediction comes true would probably depend on more than just the migrant question, however, which clearly was not enough for Le Pen to win the election. While a harsh crackdown on street protests against Macron's reforms and his controversial telling off of retirees who he thought "complained" too much over pension cuts certainly didn't help, the French leader may hope to shine on the international arena, where Paris is poised to sidestep US sanctions against Iran and may possibly serve as a mediator in the Syrian conflict resolution.
READ MORE: Drop sanctions & reach out to Russia or drive it into China's embrace – France's Sarkozy
Like this story? Share it with a friend!
You can share this story on social media: