'Ridiculous & absurd political censorship': Opposition critics slam Macron's anti-fake news law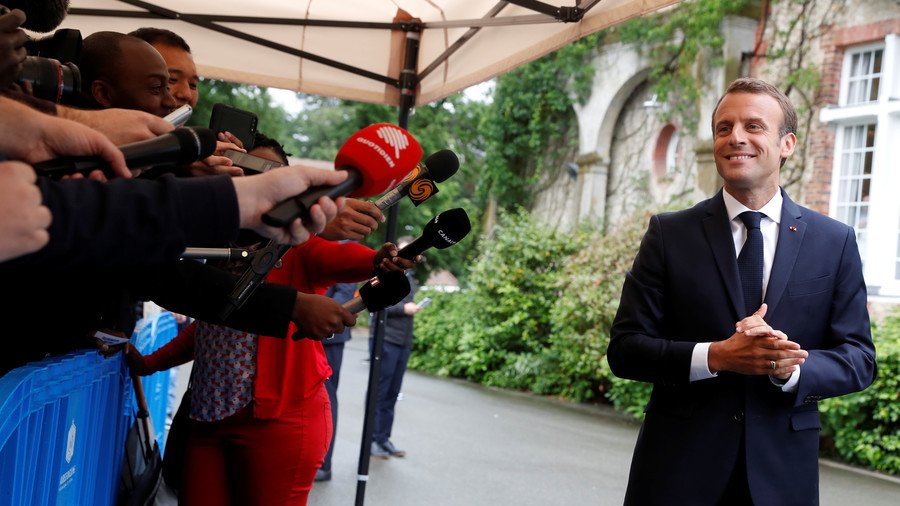 Opposition and critics have lambasted President Macron's anti-fake news draft law for violating free speech and targeting alternative media. France's lower house of parliament began discussing the controversial legislation.
The draft was proposed by Emmanuel Macron himself after he claimed he was the victim of a barrage of fake news stories during the 2017 presidential election, including allegations that he had a gay affair. Presented as a law aimed to battle "manipulation of information," the draft is being debated in the National Assembly, the lower house of the French Parliament, on June 7-8.
If passed, the bill would allow French judges to block the publication of any information deemed to be false ahead of elections. The legislation says that it mainly targets "those media controlled by foreign states," as well as "digital platforms."
"This law is intended … to protect fundamental freedoms (freedom of expression, protection of the sources of journalists)," the statement reads. But critics fear it is a possible means to restrict free speech.
'Ridiculous and absurd'
Macron's presidential rival, Marine Le Pen, from the anti-immigration and Euroskeptic National Front party, believes that the legislation can be used "as a basis for real political censorship."
"The fake news bill is repressive: if the assembly votes for it, the most essential values embodied in our Constitution and the values of democracy will be violated!" she wrote on Twitter.
"La loi sur la presse peut être améliorée. Mais la manière dont la loi sur les "fake news" est conçue est dangereuse, car elle peut servir de base à une véritable censure politique. Cela correspond à une dérive autocratique de la part d'Emmanuel Macron." @franceculture

— Marine Le Pen (@MLP_officiel) 6 июня 2018 г.
📢 Le projet de loi sur les « fausses informations » est liberticide : s'il est voté, les valeurs les plus essentielles que consacre notre Constitution et les valeurs de la démocratie seront bafouées !🖋 Ma tribune à lire dans @Causeur. #FakeNewshttps://t.co/u2QOBciGFA

— Marine Le Pen (@MLP_officiel) 5 июня 2018 г.
The president's 'arch nemesis,' Jean-Luc Mélenchon, wrote a lengthy article slamming the proposed bill, calling it "a ridiculous and absurd pretension which aims to acquire the power of freedom."
"Emmanuel Macron chose a repressive approach and censorship only," he wrote, adding that the spread of fake news is "the new obsession of the powerful in Europe and the USA."
Will it target alternative media and RT in particular?
The draft law is not about democracy, British philosopher and historian John Laughland told RT. He suggests that the proposed legislation "is an attempt to counterattack against relative success of blogs and social networks."
However, what is more, the draft also targets "public media like RT which profile themselves as [the ones that present] alternative points of view," he insisted.
According to Laughland, the law creates "a very bad precedent, and it creates a very bad atmosphere which may lead people to practice self-censorship."
Back in January, Macron vowed to tighten media control because he claimed that "fake news threatens democracy." The centrist leader repeatedly singled out RT and Sputnik throughout his election campaign and presidency, repeatedly slandering the Russian outlets as "deceitful propaganda" entities and accusing both of spreading "disinformation" about him. RT journalists were barred from his campaign meeting and all other events that he hosted on multiple occasions.
'The law would backfire & it will be a catastrophe for Europe'
The government has defended the initiative, saying that it has nothing to do with reducing freedom of expression, but it will, on the contrary, protect it.
Yet, a chance that the bill "would backfire really violently is huge," Fabrice Epelboin, who teaches media studies at Sciences Po University in Paris, told RT. "The impact [of the legislation] would be so huge that it would be catastrophic for Europe. And Europe is in a very fragile state," he stressed.
According to Epelboin, if the law is given the green light, everybody would be looking for censored news. And because it is censored, "everybody would believe it's the truth, even though it's probably not. Because of the censorship, the information would become important and would spread like wildfire. There is no way the law could be efficient using the internet."
"If you censor something, it would point everybody's attention to it," he concluded.
You can share this story on social media: