Merkel's party suffers losses in Hesse elections as right-wing AfD enters parliament - exit polls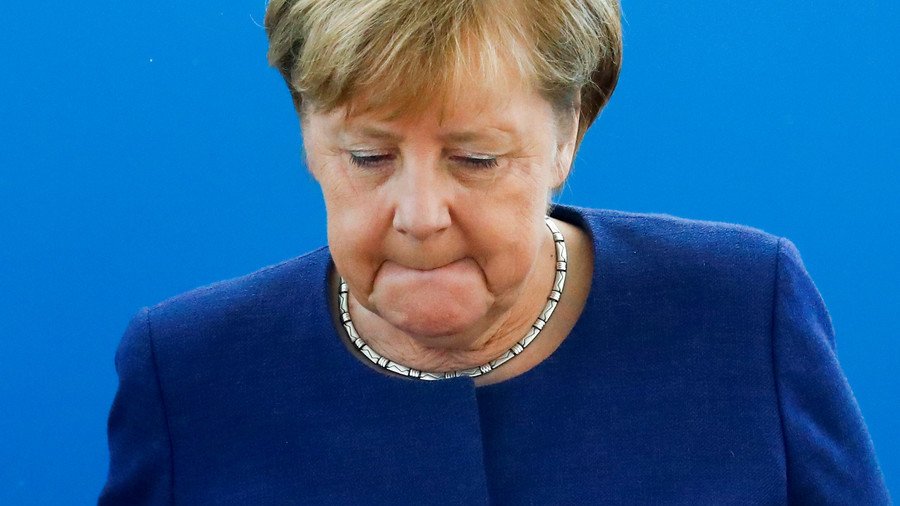 The Eurosceptic Alternative for Germany (AfD) party has gained seats in Hesse and now holds parliamentary seats in every single German state, according to exit polls. Meanwhile, Merkel's CDU has seen party support plummet.
German Chancellor Angela Merkel's Christian Democratic Union (CDU) suffered an electoral shock, winning only 28 percent. The results were quite a disappointment for the CDU candidate and Ministers-President of Hesse, Volker Bouffier, a Merkel man who has stuck with her through thick and thin.
The CDU result marks a huge drop from the 38.3 percent won by the party during Hesse's last election in 2013.
"We are in pain because of the losses but we also learnt that it is worth it to fight," Volker Bouffier, the incumbent CDU state premier in Hesse and a Merkel ally, told supporters.
READ MORE: Neutrality or censorship? RT's look at AfD's tool for students to report 'biased' teachers (VIDEO)
The AfD, meanwhile, gained 12 percent of the votes in Hesse, a state that is home to six million people and the German capital of finance, Frankfurt am Main.
The party's parliamentary leader, Alice Weidel, took to Twitter to celebrate its success.
"We are the People's Party!" she wrote, noting that the AfD is now "firmly anchored" in the German parliament and is "here to stay."
The nosedive in support for Merkel's party in Hesse, known as Hessen in Germany, was predicted by polls ahead of the crucial election. Back in 2013, the CDU had to make a coalition with the Alliance 90/The Greens after the election resulted in no clear winner. It's not clear if the CDU will now again unite with the Greens to form a government.
The Social Democratic Party (SPD), which went toe-to-toe with the CDU for decades, secured 20 percent.
"This is a bad result for us, I can't put it any differently," SPD Secretary General Lars Klingbeil told broadcaster ZDF.
The Greens placed third, just barely trailing behind the Social Democrats with 19.5 percent of the votes.
Germany's political landscape has been visibly crumbling in recent weeks. Earlier in October, Merkel's ruling coalition was shaken after the Christian Social Union (CSU) – the sister party of the CDU – gained 37.3 percent in Germany's largest and second-most populous state of Bavaria. It represented the worst election result since 1950, and a loss of its absolute majority for only the second time since 1962. CSU General Secretary Markus Blume called it a "bitter day" for the party.
With the emergence of a fresh crisis, Merkel may face difficulties when she stands for re-election as the CDU chair at the party's conference in December this year.
Like this story? Share it with a friend!
You can share this story on social media: