WATCH Ukrainian Su-25 fighter jets nearly hit landing strip in ultra-low flying stunt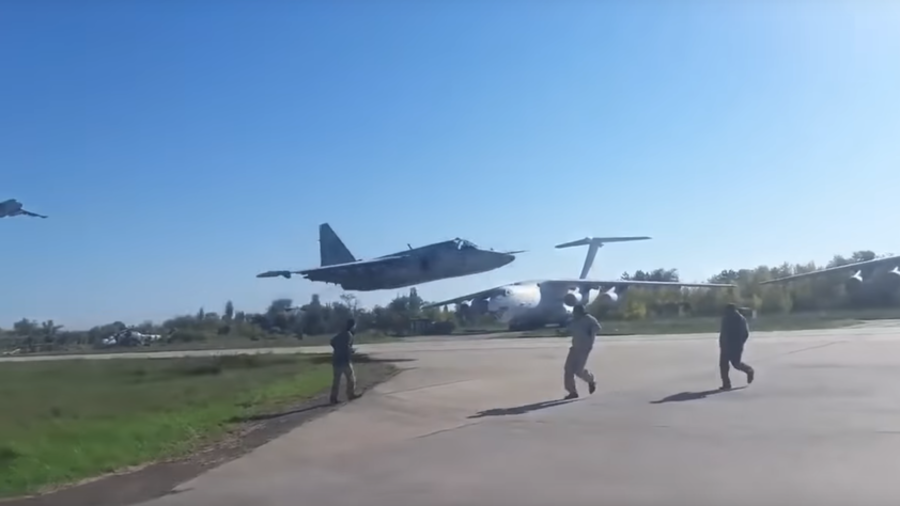 A video circulating online captured the dramatic moment a pair of Su-25 warplanes almost touched the ground as they buzzed over an airfield in Ukraine, while flying at a dangerously low altitude.
Several people can be seen running away from the landing strip right before the pilots in their Su-25MS1 jets execute the daring move, while a number of large transport planes and a helicopter are parked across the airfield.
It is not clear when the video was made. David Cenciotti, who writes for an aviation-themed blog, The Aviationist, suggested that the risky stunt may have been filmed at Melitopol airbase, in southeastern Ukraine, which houses the 25th Transport Aviation Brigade.
Ukrainian pilots have been spotted performing similar stunts in the past. A clip, reportedly filmed in 2014 and posted by the Aviationist earlier this year, shows an Su-24 attack plane performing a low pass at one of Ukraine's air bases.
In June 2018, Ukrainian Su-25 did a flyby near a coastal beach in southeastern Zaporizhia region, flying just 10 meters above the sea. The military officials confirmed back then that the incident was part of a routine aviation drill.
Think your friends would be interested? Share this story!