Damascus seeks UN probe over 60 civilians killed in US-led coalition strikes in Deir ez-Zor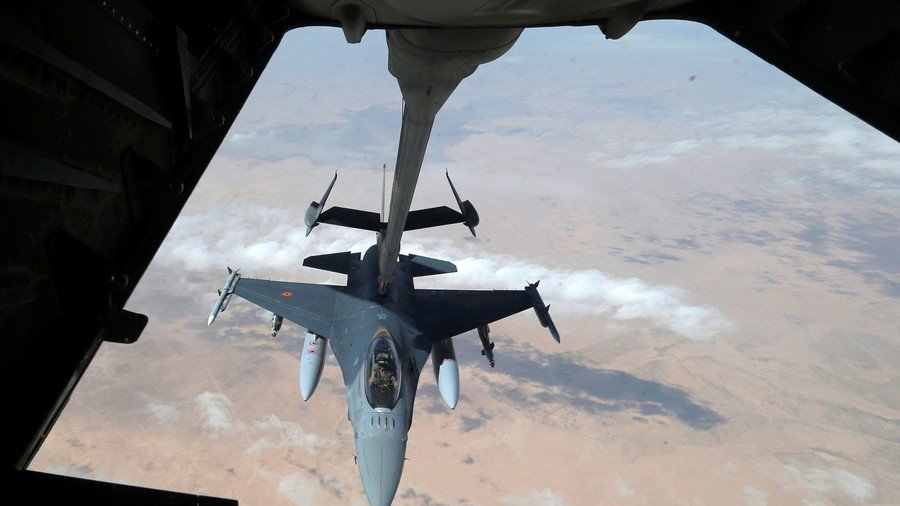 At least 62 civilians have been killed in a US Air Force attack on two villages near Deir ez-Zor city, Damascus said, adding that Washington's aim is not to combat terrorism in the region, but to kill Syrian people.
The airstrikes, which targeted the villages of Sousse and Bubradan, also injured a number of civilians, according to the agency.
Later on Saturday, the Syrian Foreign Ministry sent a letter to the UN Security Council, calling on the body to investigate the US-led airstrikes in Deir Ez-Zor. The ministry insisted that the tragedy only proves that the goal of US operations "is not to combat terrorism," but to kill as many Syrian people as possible.
READ MORE: Over 90 killed in string of attacks in Syria's southwest, ISIS behind carnage
US forces have been in Syria since September 2014, working with some militias to fight Islamic State (IS, formerly ISIS) in the country. Deir ez-Zor province where the airstrike took place is included into the US-led locations. Islamic State is controlling large parts of Deir ez-Zor's territory. According to the Russian MoD, this is clearly a result of "inaction of the US-backed armed units."
The recent tragedy comes days after another offensive carried out by US forces in the embattled province. In that attack, two US-led coalition F-15 fighter jets mistakenly targeted Kurdish units during their offensive on the remaining forces of Islamic State (IS, formerly ISIS) terrorists in Syria. A diplomatic source criticized the US' "lack of coordination and professionalism."
READ MORE: US to stay in Syria so long as 'Iranians' are there – Bolton
Earlier this week, the Russian Defense Ministry revealed that terrorists had attacked a refugee camp in Deir ez-Zor and had taken hundreds of hostages. Some 700 people were abducted and transported to the town of Hajin in the province.
In September US National Security Advisor John Bolton vowed that American troops would remain in Syria for long as any Iranian-related forces operate there. Damascus invited Iran to help fight jihadist rebels and ISIS in the country, while denouncing the US presence as illegal. US President Donald Trump has repeatedly stated that American troops are in Syria to eradicate IS, and would leave after that mission is complete.
Think your friends would be interested? Share this story!
You can share this story on social media: