US and Russian defense ministers meet for first time, Mattis expresses condolences on Kerch tragedy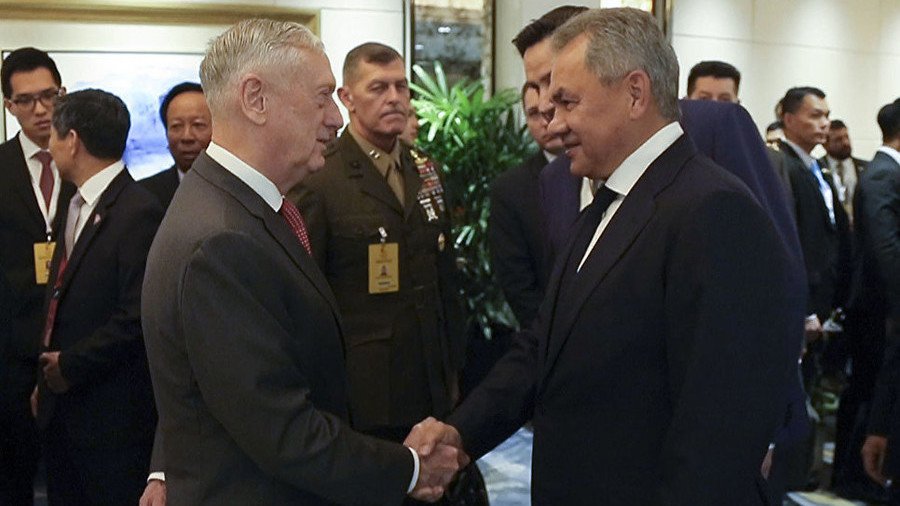 US Secretary of Defense James Mattis met his Russian counterpart Sergey Shoigu for the first time on Saturday. After shaking hands, the two men briefly talked about the recent horrific school shooting in Kerch.
Shoigu and Mattis spoke with each other on the sidelines of a defense and security-themed event in Singapore, the Russian Defense Ministry reported. The officials met while making their way to a conference hall for a planned session with defense ministers of the ASEAN nations.
The Pentagon chief expressed his condolences regarding the recent deadly tech college shooting in the Russian city of Kerch. On Wednesday, an 18-year-old student entered the school premises armed with a hunting shotgun and killed 20 people, most of whom were his teenage schoolmates.
According to the ministry, Mattis said that Americans understand how Russians feel since similar tragedies have happened in the US. Shoigu thanked Mattis for his sympathies, noting that such shootings have become more common, and that the countries need to do all they can to prevent them.
The ministers have yet to hold their first formal talks, but the Pentagon has previously indicated its openness to such negotiations. In July, Mattis told reporters that he is "considering" meeting with his Russian counterpart, but no decision had been made at the time.
Both Shoigu and Mattis have reputations as foreign policy hardliners who don't shy away from making harsh statements. Mattis had accused President Vladimir Putin of harboring plans to "shatter NATO" and attempting to "undermine America's moral authority" in the world. Shoigu, in turn, has accused the US of "artificially" escalating tensions between the states and treating Russia as "a threat to the US dominance."
Like this story? Share it with a friend!
You can share this story on social media: