US defense secretary considers first talks in years with Russian counterpart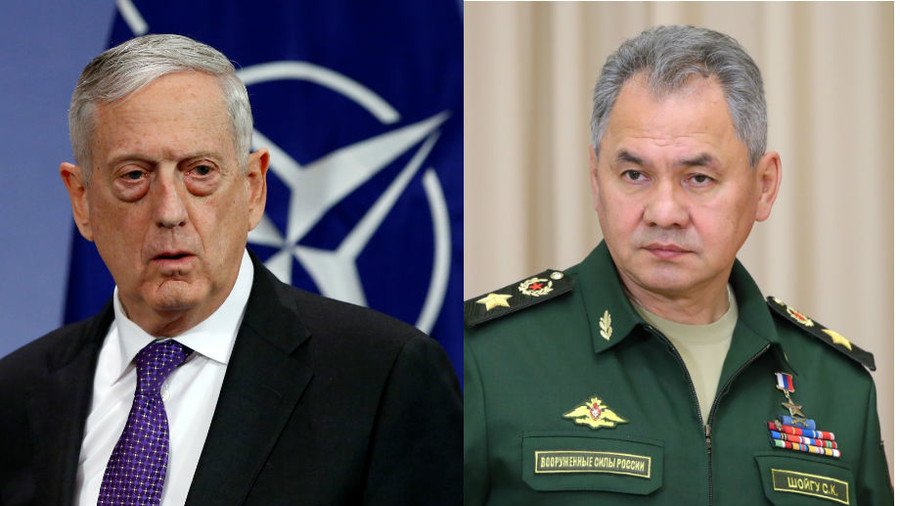 US Defense Secretary Jim Mattis has said he is looking into the possibility of holding the first talks in years with his Russian counterpart Defense Minister Sergey Shoygu.
"I am considering meeting with my counterpart, but there's been no decision," Mattis told reporters at the Pentagon, as quoted by Reuters.
US National Security Advisor John Bolton may also meet Secretary of Russia's Security Council Nikolay Patrushev by the end of summer, said Sergey Ryabkov, Russia's deputy foreign minister. Bolton arrived in Moscow in late June as part of preparations for the summit between the US and Russian presidents in the Finnish capital, holding talks with Putin and other officials.
Shoygu last spoke on the phone with a US Defense Secretary in September 2015 when the position was occupied by Ash Carter. The sides discussed Syria back then, with the Pentagon describing the conversation as "constructive."
Earlier on Friday, Vladimir Putin said that Russia and US were cooperating on Syria on an operative level, but added that high-level contacts on the issue were required.
During their meeting in Helsinki earlier this month, presidents Putin and Trump agreed to revitalize military cooperation between the countries in several areas, including the return of refugees to Syria and prolonging the Strategic Arms Reduction Treaty (START).
Trump even said that the US and Russian militaries proved to actually get along better than the politicians of the two countries over the past few years, referring to the deconfliction communication in Syria.
After the Helsinki talks, the Russian Defense Ministry said that it was ready "to intensify contacts with its American colleagues through the General Staff and other available channels of communication" on all of the issues mentioned by the two presidents as well as other pressing matters of international security.
Russia's Chief of the General Staff and First Deputy Defense Minister Gen. Valery Gerasimov also met with the Chairman of the US Joint Chiefs of Staff Gen. Joseph Dunford in Helsinki in early June. The military officials discussed the settlement of the Syrian crisis, as well as ways to reduce tensions and ensure security in Europe, Russia's Defense Ministry said.
Think your friends would be interested? Share this story!
You can share this story on social media: