Mussolini's granddaughter threatens to report people offending fascist leader, causes Twitter storm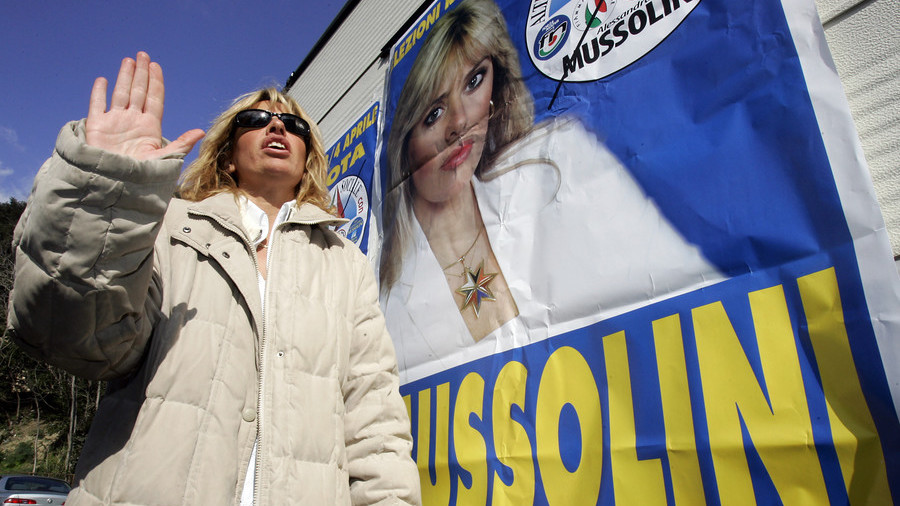 Italian Twitterati suddenly found themselves in hot debate on Mussolini, and that's because his granddaughter threatened to report anyone who dared to post anything offensive about the fascist leader to the police.
Alessandra Mussolini catapulted herself onto an online battlefield on Wednesday after she tweeted that lawyers are at work to verify Facebook and other social media channels' 'political correctness' in regards to pictures and/or offensive messages about her grandfather. She then added that whoever is suspected of posting insulting material will be monitored and reported to the police.
Alessandra Mussolini, who has since 2014 been a member of the European Parliament for Italy's right-wing party Forza Italia, immediately drew a mixture of irony, disgust and outcry with her controversial tweet.
Journalist Luca Bottura hit out saying: "Good morning, I am auto-reporting myself: Mussolini was a disgusting dictator that sent 300,000 Italians to die and killed 150,000 civilians, not to mention the Jews delivered to Hitler or gassed by us."
One reply noted that Mussolini's call could itself turn out to be an offence as it may be considered an apology of fascism, considered a crime in Italy, Italy's Corriera della Sera newspaper reported.
Another Twitter user, who described himself as "antifascist at heart", said: "Your grandfather was the protagonist of one of the darkest moments in Italian history and many Italians died because of him," before pointing to the "tragedy" of the racial laws implemented by his party.
One woman said she has "no words", before going on: "What do you really think we should say, that he was a good person? Try and explain that to my grandfather who only by a miracle managed to come back from Russia… for which he had left with a coat and some paper shoes.
"The only dictatorship in Italy is fascist!"
While one got a lot of support when he queried, "Mussolini who?
"The one that got Jews, gay, Roma and political opponents killed in concentration camps?
"The one who brought Italy to starvation and a devastating war?"
He concluded saying that while he doesn't believe she should be ashamed, he can't come to terms with how the MEP could be "proud" of herself as a descendant of Mussolini.
Think your friends would be interested? Share this story!
You can share this story on social media: