Netanyahu vows 'Israel will act with great force' against Hamas in Gaza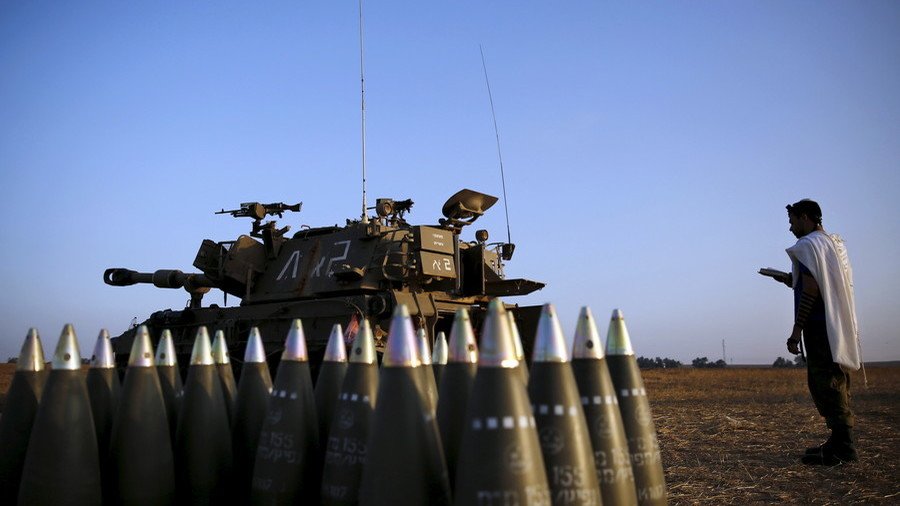 Israel's Prime Minister has explicitly warned Hamas that the IDF is edging closer to yet another full-blown military operation against the Gaza strip to put an end to cross-border violence.
Tel Aviv's patience appears to be running extremely thin from the seven months of violence along the Israeli-Gaza border. The Jewish nation is also uncompromising in its commitment to prevent Palestinian boats sailing up to the maritime boundary between Israel and the coastal enclave and promised to act unless Hamas stops launching rockets and incendiary balloons that threaten Israeli civilians.
"Israel views, with great severity, the attacks on it along the fence, on the Gaza perimeter, on Beersheba, everywhere," Netanyahu said Wednesday after the IDF struck Hamas targets in retaliation to rocket fire which damaged a house in the Southern Israeli city of Beersheba. "I said at the beginning of this week's cabinet meeting that if these attacks do not stop, we will stop them. I want to tell you today [that] Israel will act with great force."
Netanyahu's statements echoed the message he sent to Hamas on Sunday, when he warned the militant group that the "Israeli army is edging closer to a large-scale military activity." The commencement of a possible military incursion into Gaza has not been decided yet, but Defense Minister Avigdor Lieberman has repeatedly proposed authorizing large-scale military action in the Palestinian territory to put an end to border violence.
Just before Palestinians struck a residential home in Beersheba early Wednesday and launched another projectile into the Mediterranean, Lieberman warned that Israel is "not prepared to accept the level of violence," calling on the Cabinet to authorize an incursion into Gaza, stressing that "a serious blow to Hamas could bring us at least five more years of quiet."
Until such a military action is approved, Tel Aviv is sticking to less coercive methods to convince Hamas to quell the violence. Following the targeting of the southern Israeli city on Wednesday, Lieberman ordered the closure of two Gaza border checkpoints and enforcement of a stricter three-nautical-mile limit for Palestinian fishing boats. Earlier, Israel halted Qatari fuel shipments to Gaza's power plant.
While no injuries were reported in either strikes on Wednesday morning, Israel pinned the blame for rocket launches on Hamas to justify striking 20 terror sites inside Gaza and destroying a terror tunnel near Khan Yunis. The Israelis also targeted a group of militants during an attempt to fire rockets into Israeli territory. The Palestinian factions, however, denied launching the projectiles, at the same time, promising to continue their border protests.
"The Palestinian people continue to fight back with all of their power through the protests known as 'The Great March of Return' and naval marches to break the siege, and we stand with our people, who participate weekly in such activities to achieve their demands for freedom and to be able to return to their homeland," the statement from Hamas and Palestinian Islamic Jihad read.
Tensions have been high on the Israel-Gaza border since late March when Palestinians began fresh protests against the Israeli occupation. More than 204 Palestinians have been killed and over 22,000 others injured by Israeli forces since the Great March of Return began on March 30. Israel's use of deadly force was condemned by the UN General Assembly and numerous humanitarian groups.
To avoid further escalation in tensions, Egyptian negotiators held talks with Hamas leaders trying to broker a long-lasting ceasefire deal in an effort to avert a fourth possible war with Israel since Hamas seized control of Gaza in 2007. Alarmed by new violence and the prospect of it leading to a new full-scale war akin to 2014's Operation Protective Edge, the UN and the EU called for the reduction of tensions.
The previous large-scale IDF operation in Gaza was mounted in 2014 after three Israeli teenagers were kidnapped and murdered by alleged members of Hamas' military wing. The Israeli airstrikes and ground campaign to put an end to Palestinian rocket attacks resulted in the death of thousands of people, the vast majority of them Gazans. During the 51-day assault, over 2,100 Palestinians were killed, with another 10,000 injured. For its part, Israel lost seven of its soldiers and five civilians from Hamas rocket fire. Another 469 IDF soldiers and 261 Israeli civilians were injured. The campaign was slammed by numerous human rights groups for its disproportionate use of force and triggered protests worldwide.
Think your friends would be interested? Share this story!
You can share this story on social media: