ISIS seizes chlorine canisters in attack on Al-Nusra & White Helmets – Russian MoD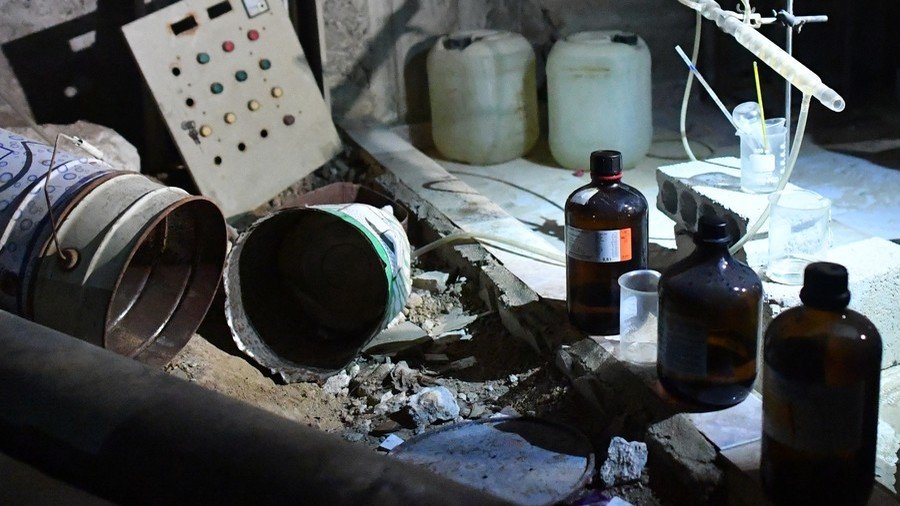 Deadly chemicals have ended up in the hands of Islamic State (IS, ISIS/ISIL) after pro-IS terrorists attacked a northern Syrian HQ of Al-Nusra, killing several militants and White Helmets and capturing canisters with chlorine.
The Russian Defense Ministry reported on the attack on Wednesday, accusing the militant-allied Western countries of helping the terrorists acquire chemical agents. The "irresponsible actions" of these states in Syria have led to the situation, in which "chemical agents ended up in the hands of Islamic State terrorists, whose actions are impossible to predict," the head of the Russian Reconciliation Center, Major General Vladimir Savchenko, said in a statement.
Moscow has previously accused the anti-government militants and their Western backers of preparing false flag chemical attacks to frame Damascus. The West, Savchenko said, completely "disregards the precarious situation in the Idlib de-escalation zone" with this alleged plan.
He said that on October 9, an extremist group affiliated with Islamic State raided a field command center of an Al-Qaeda affiliate Jabhat al-Nusra (now known as Hayat Tahrir al-Sham). The jihadists managed to seize two canisters filled with chlorine during the raid while killing four Al-Nusra militants, as well as two members of the controversial White Helmets group.
Moscow's warnings have been dismissed by Washington and its allies, and it instead accused the forces of Syrian President Bashar Assad of preparing chemical attacks against civilians. While making one of her anti-Assad statements at the UN, the outgoing US ambassador, Nikki Haley, notably said in September that "if there are chemical weapons that are used [in Idlib], we know exactly who is going to use them."
Think your friends would be interested? Share this story!
You can share this story on social media: