'Fighting EU to save Europe': Salvini, Le Pen vow to start 'revolution of common sense'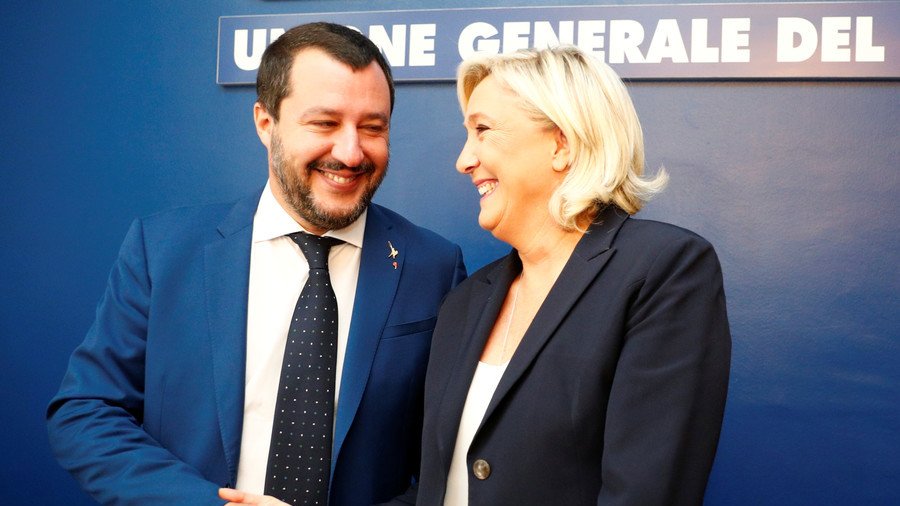 Italy's Matteo Salvini and France's Marine Le Pen have pledged to fight the "totalitarian" EU and bring Europeans "their future back" as they launched their campaign ahead of the European Parliament elections.
"The enemies of Europe are those, who are entrenched in the Brussels bunker," Salvini, the Italian Interior Minister and the head of the anti-immigrant Lega (the League) party, told journalists at a joint press with Marine Le Pen, the leader of French National Rally (formerly National Front), in Rome.
He went on to directly attack the EU Commission head Jean-Claude Juncker and EU Economics Commissioner Pierre Moscovici by calling them "the enemies of the European people and the happiness of the European people."
The two EU officials "have brought precariousness and fear into Europe but still refuse to leave their thrones," Salvini added. He said that the forthcoming EU Parliament elections would herald a "revolution of common sense." He believes it would bring anti-establishment forces, like his and Le Pen's parties, to power and bring "500 million European citizens their future back."
"The real challenge is the fight against insecure employment, unemployment... the empty cots," he added. Meanwhile, Le Pen rushed to assure people that the two parties "are not fighting against Europe" but are actually seeking to "save the real Europe" from the dictate of the EU, which "has become too totalitarian."
"We are today at a historic moment. This is history with a capital 'H' that will be written in May 2019. It will be the emergence of a Europe of nations, a Europe of respect, a Europe of protection," she said, referring to the EU Parliament vote.
The two parties, known for their anti-establishment and Euroskeptic stance, have been at odds with Brussels over its mass immigration policy. Salvini recently locked horns with Junker and Moscovici over Italy's 2019 budget deficit plans which exceed the limits set by the EU.
Tensions between the politicians have been running high. In mid-September they had a heated war of words when Moscovici complained about the spread of "little Mussolinis" across Europe, referring to the rise of right-wing forces across the bloc and Salvini in particular. That remark prompted the Italian minister to tell the EU official to "wash his mouth out."
READ MORE: Italy's deputy PM predicts 'political earthquake' for European Union
The upcoming EU Parliament elections might indeed mark a significant change in European politics as various anti-establishment and Euroskeptic forces are gaining popularity throughout the bloc. Italy's Deputy Prime Minister Luigi Di Maio previously said that the union might expect a "political earthquake" after the 2019 European Parliament election.
If you like this story, share it with a friend!
You can share this story on social media: