Turkish TV airs VIDEO of missing journalist walking into Saudi consulate, black van leaving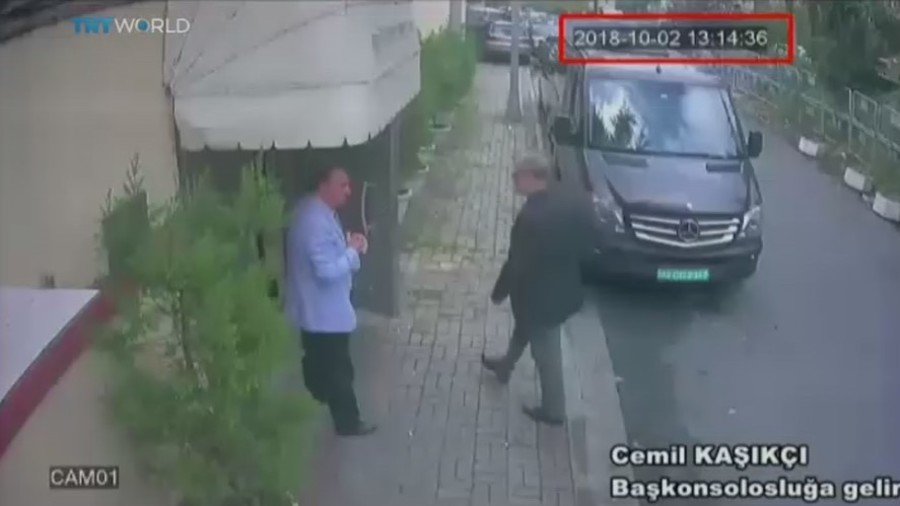 A Turkish TV station has aired CCTV footage of missing dissident journalist Jamal Khashoggi walking into the Saudi Consulate in Istanbul last Tuesday, with a black van later arriving and presumably taking him away.
Footage of Khashoggi entering the consulate on October 2 was broadcast by private Turkish news channel 24 on Wednesday, followed by a video of a black Mercedes Vito leaving the premises. The video suggests that Khashoggi was in the vehicle at the time.
The channel added that the van then drove the short distance to the consul's home, where it parked inside a garage.
Earlier on Wednesday, several Turkish newspapers published the identities of 15 Saudi men who Turkish authorities believe were part of a hit squad which touched down in Istanbul the same day Khashoggi visited the consulate, departing later that day.
Stills of the airport show the men arrived from Riyadh to Istanbul in two private jets with the tail numbers HZ SK1 and HZ SK2, the Daily Sabah reported. The report added that most of the men stayed at the Wyndham Grand Hotel and Movenpick Hotel, both located close to the consulate.
It's believed that several of the men belong to Crown Prince Mohammed Bin Salman's elite close protection unit, a source told Middle East Eye.
Saudi authorities have denied any foul play, calling the allegations "baseless."
On Tuesday, Turkish Foreign Ministry spokesman, Hami Aksoy, said the Saudis would allow Turkish police to search the consulate building, a week after Khashoggi disappeared. However, a time for the search was not given.
READ MORE: 'They all take Saudi money': Suspected murder of WaPo columnist by Saudi Arabia ignored by UK press
Khashoggi, a Saudi national who fled his country last year for fear of political repression, had been a vocal critic of Salman's crackdown on political dissent and the Saudi military's conduct in the Yemen civil war.
A columnist with the Washington Post, Khashoggi was living between Washington DC and Istanbul at the time of his disappearance, and was visiting the consulate in order to obtain documents proving an earlier divorce so that he could marry his Turkish fiancée.
Think your friends would be interested? Share this story!
You can share this story on social media: