Ukraine, Hungary expel consuls in escalating double citizenship row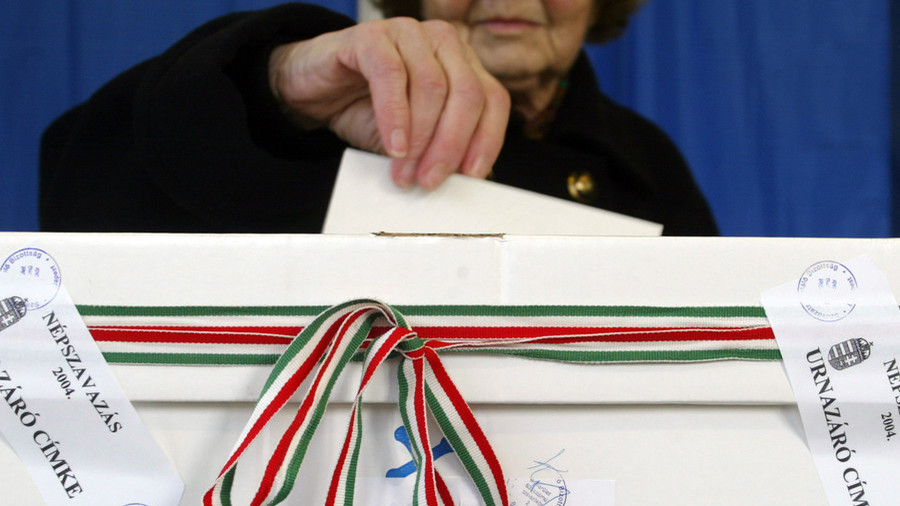 Ukraine's relations with neighboring Hungary suffered a new blow after Kiev expelled Hungary's consul in a western Ukrainian region, accusing him of illegally offering citizenship to ethnic Hungarians living there.
The chief of the Hungarian consular mission in Berehove was ordered by Kiev to leave Ukraine within 72 hours for "activities incompatible with the status of a consular officer", the Ukrainian Foreign Ministry announced on Thursday.
Ukraine's Foreign Minister Pavlo Klimkin said kicking out the Hungarian diplomat was a matter of principle, but not a signal that Kiev wants its relationship with Budapest to worsen.
"Wherever the Hungarian side wants to continue cooperation, we will do so," he said. "We have a strategy of robust, consistent but constructive dialogue."
Hungarian Foreign Minister Peter Szijjarto denied that Budapest's diplomat did anything to violate the laws of either of the two nations or any international diplomatic treaties, saying all of Hungary's missions in Ukraine "act within the law".
Реакція Угорщини є абсолютно і фундаментально неадекватною. Ми не порушуємо міжнародного права, угорських законів, і взагалі діємо як належить дипломатам. А нашого дипломата влаштуємо у Представництві МЗС в Ужгороді, їм там точно потрібно підсилення.

— Pavlo Klimkin (@PavloKlimkin) October 4, 2018
Hungary responded by expelling the Ukrainian consul in Budapest. Klimkin said Hungary's reaction was "absolutely and fundamentally inadequate" in a tweet, apparently referring to the Ukrainian diplomat's higher status as an embassy worker.
The expulsions culminate in a two-week row over hidden camera footage, which was broadcast by the Ukrainian media and allegedly showed a swearing in ceremony of Ukrainian citizens in the Hungarian consulate in Berehove after receiving Hungarian citizenship. It included pledging allegiance to Hungary and an instruction not to inform Ukrainian officials about receiving the new citizenship.
Ukraine technically disallows dual citizenship and ignores any legal claims by other nations when a Ukrainian citizen is involved. Having a second passport disqualifies a person from holding a public office in Ukraine, but even this rule is largely not enforced, as evidenced by the example of Igor Kolomoysky, a billionaire who simply said he can serve as governor despite being a citizen of Israel and Cyprus in addition to Ukraine "because the Constitution forbids dual citizenship, not triple".
In practice, an estimated 500,000 Ukrainians have citizenship of other nations, with Russian, Polish, Hungarian and Romanian being the most popular. Each of these countries has for years offered a simplified way to get its citizenship or other privileged legal status to ethnic Russians, Hungarians and Romanians living in Ukraine.
Some Ukrainian officials and nationalist activists however have been increasingly branding such people potential agents or even traitors. For instance, the Deputy Speaker of the Ukrainian Parliament, Irina Gerashchenko, called Hungary's citizenship policy in Ukraine "a threat to national security" and accused Hungarian officials "of having secret territorial claims" in her country.
The Zakarpattia region, where Berehove is located, was under Hungarian rule until the early 20th century, switched hands several times and ended up as part of Soviet Ukraine in the aftermath of World War II. People of Hungarian descent mostly live in border parts of the region, with Berehove and land around the city sporting the biggest concentration.
Nationalist policies of Kiev are the cause of its ongoing tension with Hungary. Last year it adopted a new education law, which greatly reduced the rights of ethnic minorities to be taught in school in their native language. Ukraine insisted the reform was not discriminatory and simply defended Ukrainian national identity.
The explanation didn't satisfy its western neighbors, with Hungary going furthest of the three in its retaliation. Since the adoption of the new law Budapest has been blocking all attempts by Ukraine to take part in NATO meetings, effectively stalling Kiev's aspiration to join the military bloc.
Think your friends would be interested? Share this story!