No place for Ukraine in EU, Hungary says after Kiev outlaws education in minority languages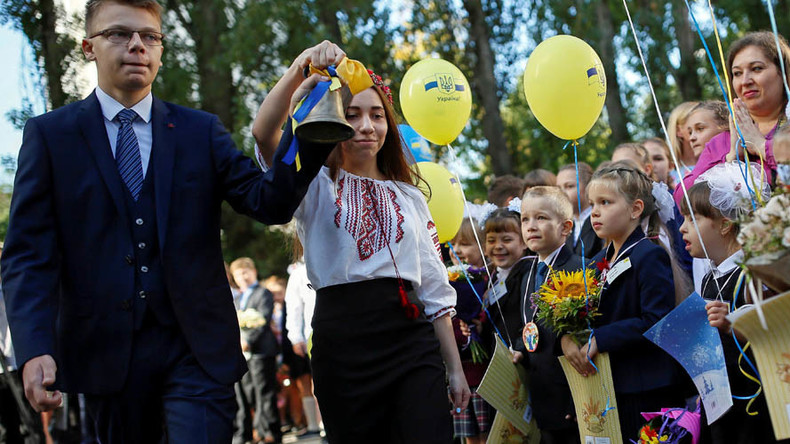 Hungary has pledged to obstruct Ukraine's EU integration at every step after Kiev adopted a new education law which bans teaching children in any language other than Ukrainian. Ukraine's neighbors call it a form of persecution of minorities.
"Hungary will block all steps within the European Union that would represent a step forward in Ukraine's European integration process in the spirit of the Eastern Partnership program," Hungarian Minister of Foreign Affairs and Trade Péter Szijjártó said in a statement on Tuesday.
The statement came after Ukrainian President Petro Poroshenko signed into law a controversial bill which in essence bans state schools in Ukraine from teaching children in any language other than Ukrainian.
Ukraine's Foreign Minister Pavlo Klimkin responded to Hungary's concerns by calling the whole issue a mere "misunderstanding" and offered assurances that Ukraine does care about its citizens of Hungarian origin.
"The meaningful dialog is the way to clear up misunderstandings," Klimkin tweeted, adding that "Ukraine does everything to make our citizens of Hungarian origin feel as comfortable as possible both in the EU and in Ukraine."
He also said that more languages mean "more opportunities," even though the new law is aimed precisely at limiting the use of minority languages in Ukrainian educational institutions.
From next year, only children in grades 1-4 would be allowed to learn the curriculum in their native tongues in Ukraine, and by 2020, even that will no longer be legal under the newly signed law.
The law is expected to affect at least 400,000 children studying in 735 state schools which offer instruction in minority languages. The majority of these children are ethnic Russians, but other minorities in Ukraine include Romanians, Hungarians, Moldovans, and Poles. The law provides minor concessions for "EU languages," English, and some minorities that have no national states of their own.
Poroshenko claimed that the new law "strengthens the role of the Ukrainian language in education" while protecting the rights of all minorities. But some nations, like Hungary, do not seem to be convinced, with Budapest calling the move "a stab in the back" from Ukraine after the bill was adopted by the Ukrainian parliament earlier in September.
Romania made a similarly critical statement and cancelled a state visit to Ukraine by President Klaus Werner Iohannis in protest last week. Bucharest also refused to host a parliamentary delegation from Ukraine, saying the visit no longer had any purpose.
Moldova's maverick President Igor Dodon said Ukraine's Moldovan and Romanian minorities risked "denationalization" under the new law and called on Kiev to block it.
The Russian Foreign Ministry said in a statement that the new law is unconstitutional and violates the rights of millions of ethnic Russians living in the country.
The language issue is highly political in Ukraine. After a violent coup in Kiev replaced its elected government in 2014, one of the first acts of the new government was to scrap a law which allowed regions to adopt Russian as a second official language. The decision was later overturned, but by that time it had already triggered an uprising in the predominantly Russian eastern regions of Ukraine, leading to a bloody military crackdown by Kiev.
While the language provisions of the new law gained the most publicity, critics of the legislation complain about other parts, as well. The law reduces the number of obligatory subjects in Ukrainian state schools from 22 to 9. Among other things, physics, chemistry, biology, geography, and astronomy will be combined into one subject. Critics fear these changes will negatively affect the level of education in the country.