Watch S-300 launchers, interceptors & radars unloaded in Syria after Il-20 downing (VIDEO)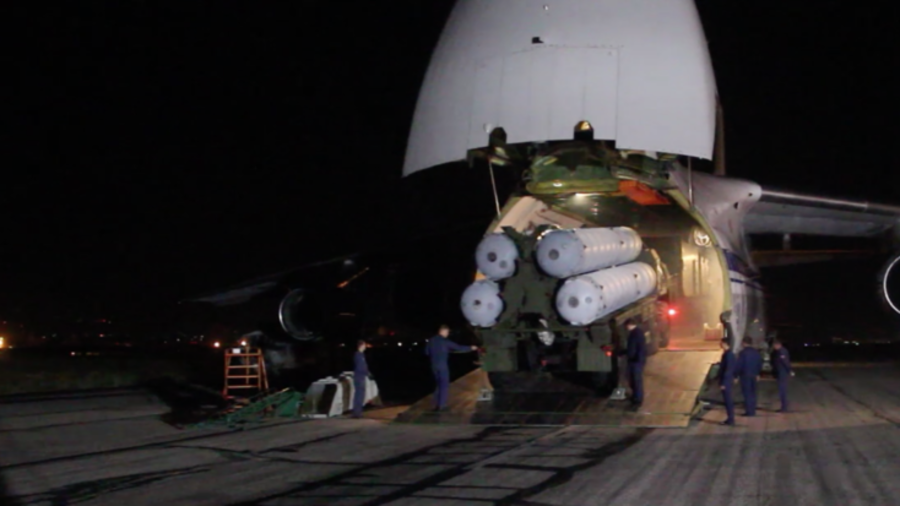 The Russian Defence Ministry has released video footage of the delivery of S-300 systems, interceptor missiles, radars and other hardware to Syria to boost the country's air-defense capabilities in the wake of the Il-20 incident.
The night-time footage shows the military hardware being unloaded off the world's largest military transport jet, the Antonov An-124 Ruslan (the Condor), designed to carry a payload of 120 tons. The video shows the gigantic front cargo doors of the aircraft opening up, through which the Russian servicemen rapidly unload an S-300 launcher, radar and control vehicles, as well as the mounting of surface-to-air interceptor missile tubes onto a hauling unit.
According to Defense Minister Sergey Shoigu a total of 49 pieces of military equipment were supplied to Damascus and all of it will be integrated with the Russian anti-air capabilities into a unified air defense control system by October 20, while Syrian crews will be trained to operate the new hardware within three months.
'49 pieces of hardware': Syria gets S-300 missile system & more from Russia in wake of Il-20 downing
The delivery of S-300 units to Damascus, which was frozen over concerns by Tel Aviv, was ordered by President Putin in response to the accidental September 17 downing of the Il-20 reconnaissance plane with 15 servicemen on board by Syrian air-defense units during an Israeli raid. The Russian military has accused Israeli counterparts of acting recklessly and unprofessionally, and of deliberately using the defenseless plane as a cover, while Tel Aviv attempted to shift all the blame for the incident on Damascus and Tehran.
'I hope they didn't do it': State Dept in doubt over S-300 delivery, warns of 'serious escalation'
If you like this story, share it with a friend!
You can share this story on social media: