Lost passenger: Body found after Boeing water-landing makes airline backtrack 'safe' rescue (VIDEO)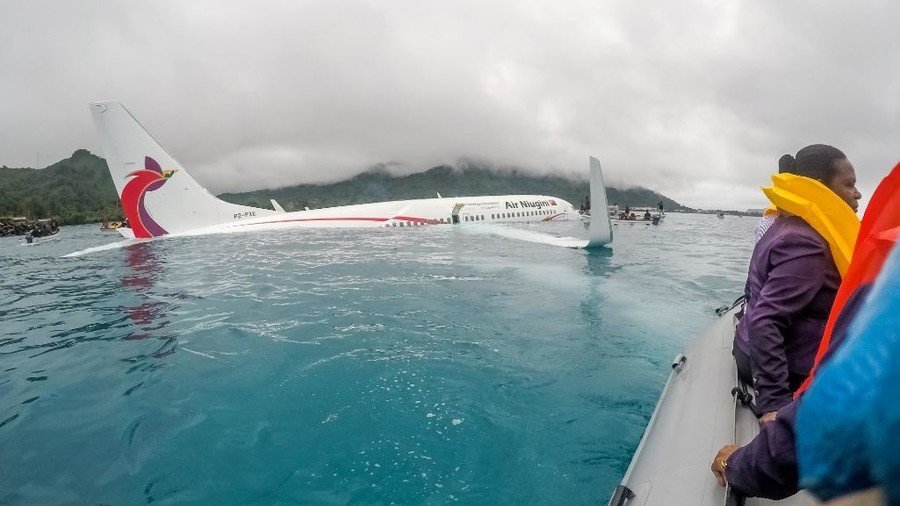 A body found near the site of the crash-landed Boeing 737 that ploughed down into the sea off Micronesia has forced Air Niugini to go back on its statement that all passengers had been safely rescued from the sinking fuselage.
Air Niugini has revised its earlier statement that all 35 passengers and 12 crew escaped from the crash alive, stating that a man who they believed to have boarded a rescue boat has now been found dead. In its original statement about the incident the airline said it had corroborated reports that a missing passenger was saved by a rescue dinghy.
READ MORE: Passenger plane crash-lands in ocean in Micronesia (PHOTOS, VIDEO)
"An inspection of the entire submerged cabin of the aircraft by the US Navy seals, further corroborated by other eye witness reports who saw the passenger board one of the dinghies on Friday, has confirmed that all passengers safely evacuated the aircraft at the time of the accident," an Air Niugini Chairperson Sir Kostas Constantinou initially said.
However, the person was on Monday found dead at the scene.
"It is with deep sadness I confirm that the body of a male passenger was discovered by divers today as they conducted a further search of P2-PXE and the surrounding area in the Chuuk Lagoon," the airline said.
Flight P2-PXE, a Boeing 737, crash-landed into Chuuk Lagoon on Friday after coming in short of the Weno International Airport runway. Footage captured by the US navy shows aftermath of the collision with rescuers looking through the inside of the stricken, water logged plane.
It's unclear what caused the crash last Friday and Air Niugini say. An investigation into the incident is underway.
Think your friends would be interested? Share this story!
You can share this story on social media: