CCTV footage of explosion that killed Donbass leader released (VIDEO)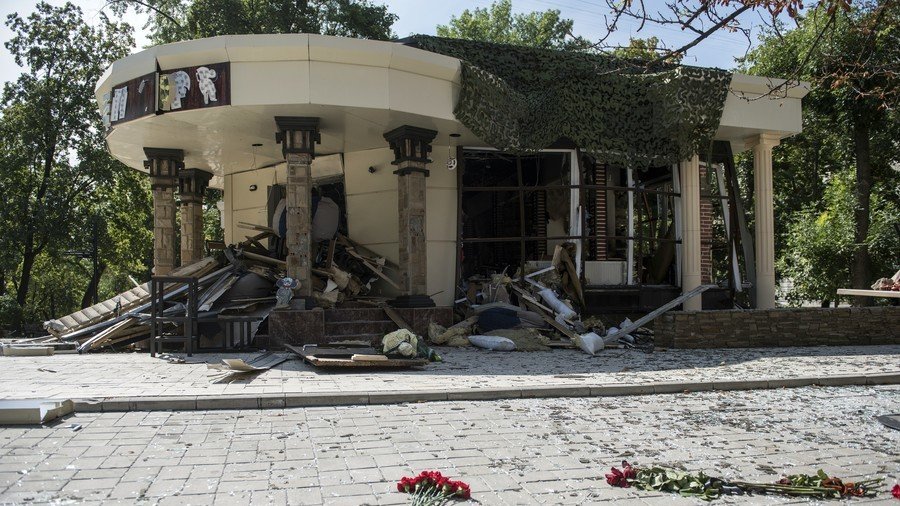 Footage of the blast that killed the head of the self-proclaimed Donetsk People's Republic, Aleksandr Zakharchenko, on August 31 has been aired by Russian media.
The CCTV images, obtained by Russia's Rossiya 1 TV channel, show Zakharchenko entering a cafe in Donetsk in eastern Ukraine, surrounded by his bodyguards, moments before the deadly explosion.
One of his bodyguards enters before him as a security precaution. Then, Zakharchenko himself steps into a small lobby accompanied by another bodyguard. A huge explosion immediately rocks the building.
In a cruel case of irony, the table in the cafe that Zakharchenko frequently used to sit at had a sign on it reading: "this table is mined", apparently a light-hearted attempt to deter other patrons from claiming his spot.
Investigators say that an explosive device with a payload equivalent to 1.5 kilograms of TNT, and filled with shrapnel, had been placed in the ceiling in the lobby. As a result of the explosion, the lobby was completely destroyed while Zakharchenko and one of his bodyguards died at the scene.
It is still unclear how the culprits managed to install the device, as it would have required dismantling part of the ceiling and taken quite some time. According to investigators, it was also connected to the cafe's electrical wiring.
The bomb was detonated at the very moment Zakharchenko was walking through the lobby. Investigators say that the operation would have required thorough preparation and impeccable timing.
"A person of Zakharchenko's size would require [mere] seconds to pass through the lobby," Aleksandr Konoplya, a member of the investigative team, told Rossiya 1. The assassins either would have had to follow the DPR head's motorcade, or had several cameras near the cafe, or even somehow tapped into the facility's CCTV network, he added.
The investigators have not revealed if the CCTV cameras also recorded the moment the device was planted. The DPR's acting head, Denis Pushilin, has previously said that Zakharchenko's murder was carried out with the help of Western intelligence services.
DPR investigators have analyzed the remains of the explosive device that killed Zakharchenko, and identified technology that hadn't previously been used by the Ukrainian SBU security service, he said.
The SBU released a statement denying any involvement in the incident and blaming it on infighting in Donetsk.
Earlier in September, Russia's Federal Security Service (FSB) accused Ukrainian intelligence services of orchestrating the killing. Moscow has condemned the murder of the 42-year old, saying the incident may jeopardize the peace process in the east of the country.
Zakharchenko had headed the DPR since November 2014, when a crisis broke out in Ukraine following a coup d'état that ousted President Viktor Yanukovych.
Think your friends would be interested? Share this story!
You can share this story on social media: