Murder of Donbass leader committed with help of Western intelligence services - DPR acting head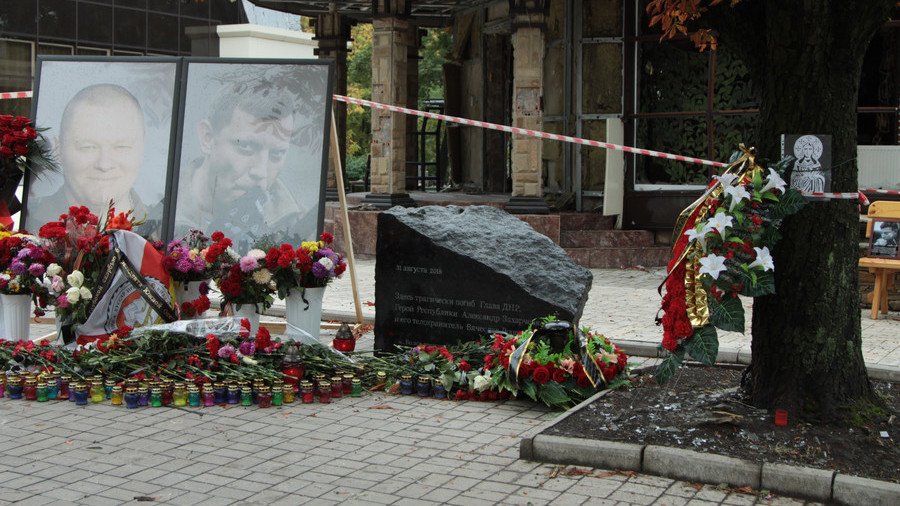 The assassination of Aleksandr Zakharchenko, the leader of the self-proclaimed Donetsk People's Republic, was committed with the help of western intelligence services, the republic's acting head said.
One person has been detained as part of an investigation into the murder of Aleksandr Zakharchenko, the acting head of the DPR Denis Pushilin said on Saturday.
Pushilin stated that the detained person is "an agent of Ukraine's Security Service (SBU)", adding that SBU was involved in Zakharchenko's assassination. DPR investigators analyzed the remains of the explosive device that killed Zakharchenko and identified technology that hadn't previously been used by SBU, he said.
"This gives us an understanding that the terrorist attack was committed with the assistance of Western intelligence services," he added.
Earlier in September, Russia's Federal Security Service (FSB) accused Ukrainian intelligence services of being behind the explosion that killed Zakharchenko.
Moscow condemned the murder of the 42-year old, saying that the incident may jeopardize the peace process in the east of the country. "Given the current situation, it's impossible to talk about the nearest meetings in the Normandy format like many of our European partners would have wanted," Russian Foreign Minister Sergey Lavrov said. "It is a serious situation that must be analyzed. We are doing it right now."
Zakharchenko was killed by an explosion in a cafe in the eastern Ukrainian city of Donetsk in late August. He had headed the DPR since November 2014, when a crisis broke out in Ukraine following a coup d'etat that ousted President Viktor Yanukovych.
READ MORE: 'The city is orphaned': 120,000 mourners bid farewell to murdered Donbass leader in Donetsk (PHOTOS)
Hours after Zakharchenko's killing, the SBU released a statement, rejecting all allegations of its involvement in the incident. According to the service's spokeswoman, the blast was probably caused by infighting in the Donetsk Republic.
Think your friends would be interested? Share this story!
You can share this story on social media: