Passenger plane crash-lands in ocean in Micronesia (PHOTOS, VIDEO)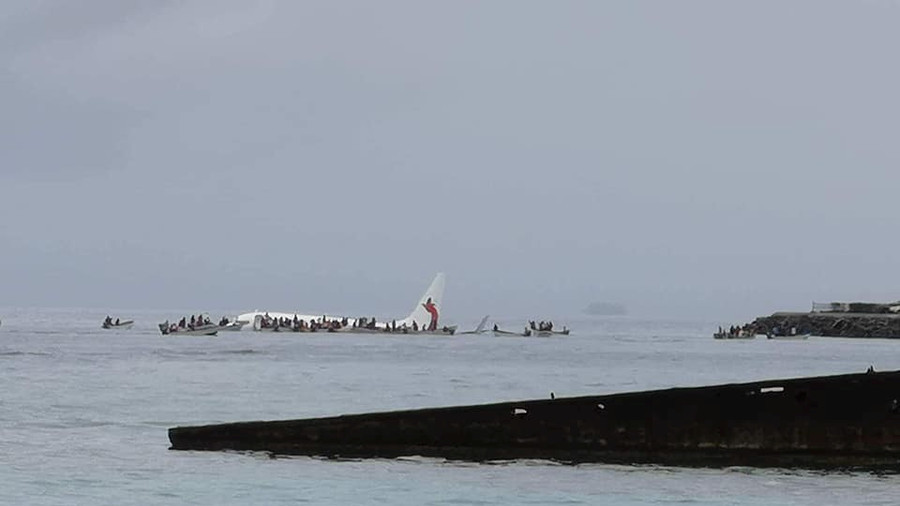 A Boeing 737 crash-landed into Chuuk Lagoon in the Federated States of Micronesia as it attempted to land at Weno International Airport on Friday. Miraculously, all passengers and crew on board survived.
The aircraft belongs to Air Niugini, Papua New Guinea's national carrier. The Port-Moresby-based airline said in statement that the plane, a Boeing 737-800, "landed short of the runway."
The plane, which was carrying 46 people, quickly began sinking. Local boat owners and rescue teams rushed to the aircraft to get the passengers out.
Photos posted on social media showed the plane half submerged.
A video posted on Facebook shows multiple fishing boats sailing towards the aircraft to pick up the stranded passengers.
The passengers and crew were taken to hospital for a checkup, with the airport authorities saying that the incident did not result in any major injuries.
"No serious injuries. Only minor ... Everybody is alive!" Jimmy Emilio, the airport's manager said, as reported by the Guam Daily Post.
US marines from the US Coast Guard Cutter Washington that was sailing nearby at the time of the incident and a rescue crew from Auckland, New Zealand, were said to be on their way to the site of the crash to join the rescue effort.
Prior to the airline's clarification, there had been some confusion in the media over whether the plane overshot the runway while taking off or crashed during a botched landing.
It is reported that the plane was arriving from Pohnpei, another Micronesian island, and was bound for Port Moresby in Papua New Guinea.
Subscribe to RT newsletter to get stories the mainstream media won't tell you.
You can share this story on social media: