'When will the US learn its lesson?' Highlights from UNSC meeting chaired by Trump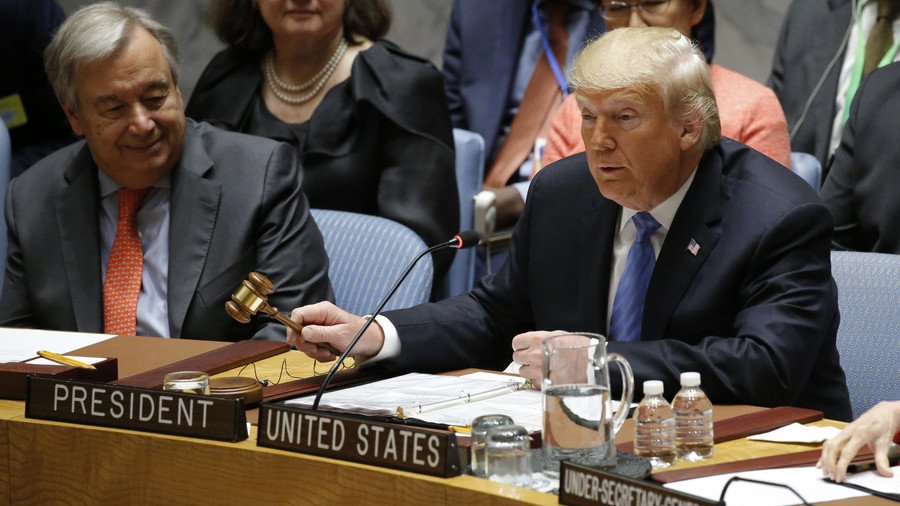 He arrived late and left early, but otherwise Donald Trump was affable enough as moonlighting chair of the UN Security Council. The same cannot be said of the speeches delivered by the members – including Trump himself.
"The United States will pursue additional sanctions tougher than ever before to counter the full range of Iran's malign conduct," Donald Trump, US president
The US, which currently holds the monthly rotating presidency at the UNSC, tried to pretend that this was a broader session about non-proliferation to avoid having to invite Tehran's representatives (Trump gave the game away last week when he tweeted that he was "chairing a meeting on Iran").
But as the day before in front of the General Assembly, the Islamic Republic was yet again the target Trump unloaded at, and the reason he lent his weight to the appearance instead of sending Nikki Haley or Mike Pompeo in his stead.
Iran was accused of "supporting terrorism, building nuclear capable missiles and fomenting chaos" as well "enabling the Syrian regime's butchery" alongside Russia, as Trump called for even tougher sanctions to replace the 2015 nuclear deal, which the US has exited, and the additional restrictions it has imposed since he came to power.
In a trademark tonal switch, Trump then thanked Tehran and Moscow for "slowing down" the attack on militant-held Iblib in Syria, and cheered them on to "Get the terrorists!"
"Once again, the US abused the UNSC only to find itself further isolated in its violation of JCPOA and SC resolution 2231. When will it learn its lesson?" Javad Zarif, Iran foreign minister
Shut out of the room, Iran countered with a simultaneous media offensive.
"Stop bullying Iran," said president Hassan Rouhani during a parallel press conference. "The US decision to withdraw from the nuclear deal was not agreed upon by other parties. It is considered a mistake by other countries."
Iran's confidence was justified, as other powers at the UNSC openly spoke of a workaround plan that will allow them to continue trading with the country regardless of previous and future Washington sanctions.
"Regrettably, we found that China has been attempting to interfere in our upcoming 2018 election coming up in November against my administration, because I am the first president to ever challenge China on trade and we are winning on trade, we are winning on every level," Donald Trump, US president
READ MORE: Twitter in disbelief after Trump calls out China for election meddling, 'ignoring Russia'
Whether to downplay the relative significance of the Mueller investigation, or to further justify his sanctions war with China, Trump has previously accused Beijing of trying to meddle in the mid-terms in November, without offering specific evidence (though he claimed he had "plenty of evidence" of Wednesday). But the accusations had never been aired with such passion, or in front of such highly-placed diplomats.
In a break with China's customary blandness at such meetings, foreign minister Wang Yi, who spoke after Trump, rejected the "unwarranted accusations" and spoke of his country's "acclaimed policy of non-interference."
"It is my sincere hope that Russia will rejoin the international consensus against the use of chemical weapons, and the collective effort to uphold it… But if not, we should leave no-one in any doubt of the international community's determination to uphold international non-proliferation regimes," Theresa May, UK prime minister
In the past several years most of the bitterest feuds in the chamber have broken out between London and Moscow, and Wednesday was no exception, with Theresa May spending half of her speech castigating Russia.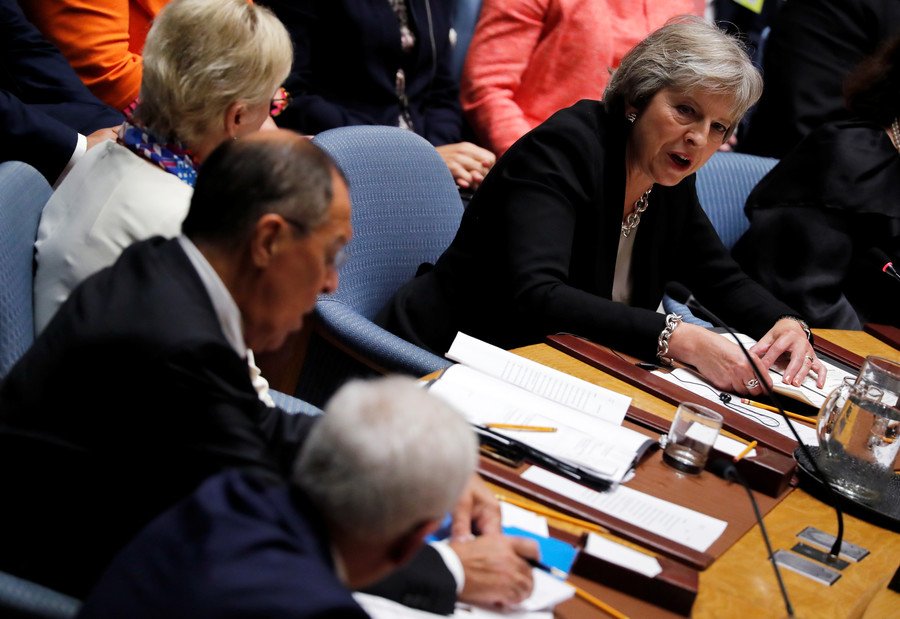 "Russia has repeatedly wielded its veto to prevent the Security Council from holding the Assad regime to account," she claimed, and later that Moscow "recklessly deployed a nerve agent on our streets," omitting the qualifiers that characterized earlier British statements on the March incident.
"Does the UK have something to hide?" Sergey Lavrov, Russian foreign minister
Moscow gave as good as it got, as Lavrov launched wave after wave of attacks on the Western powers present. As well as accusing the UK of failing to comply with international law by conducting a joint investigation of the Salisbury incident, the diplomat focused on Syria.
Lavrov noted that while Damascus has got rid of its chemical weapons stockpile, his opponents have not, and accused the West of "degrading" the Organisation for the Prohibition of Chemical Weapons, by trying to force it into attributing blame – presumably, to Assad – for the attacks to continue to occur in the country.
"I would like to say to you, frankly and openly here, that in no way is the United States interested in upholding democracy. The United States could not care less about human rights or justice," Evo Morales, Bolivian president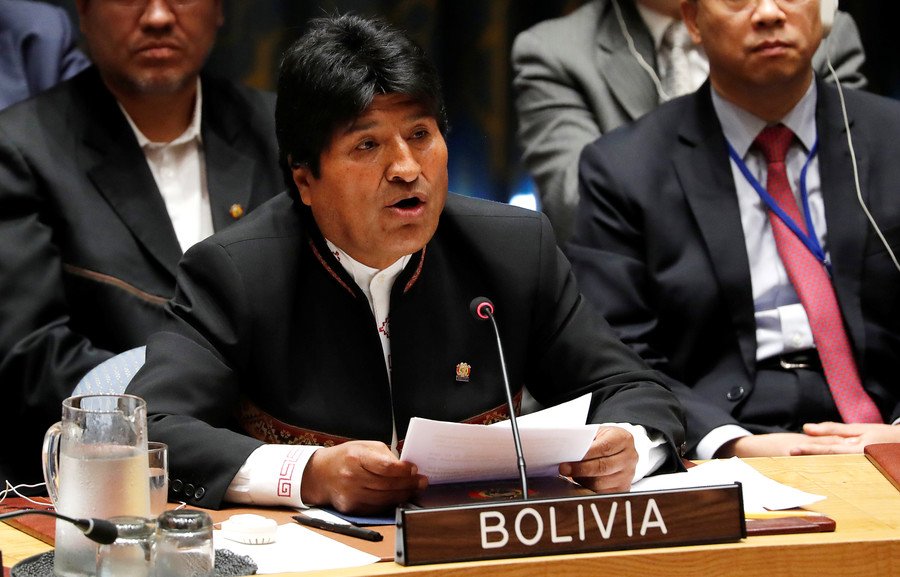 What Bolivia lacks in international heft it makes up for in stridency, and Evo Morales delivered the most strongly-worded and passionately-expressed message of the day, in which he accused Washington of ignoring international institutions such as the ICC – a conscious Trump policy - promoting torture and "putting children in cages."
READ MORE:Missing in action: Trump leaves UN Security Council he was chairing
Though judging by Trump's neutral response of "Thank you, Mr President," the US leader has either attained new heights of diplomatic resilience, or wasn't actually listening to any of this.
If you like this story, share it with a friend!
You can share this story on social media: