Bolton warns of 'hell to pay' if Iran crosses US & allies as Rouhani dares Trump to return to talks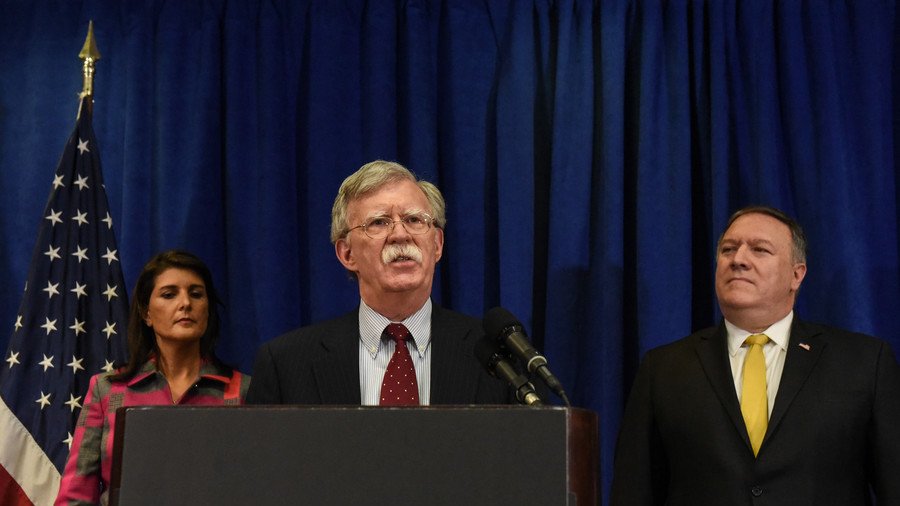 Hours after the US and Iranian leaders took aim at each other at the UN General Assembly, US National Security Adviser John Bolton said at an anti-Iran summit that Tehran will have "hell to pay" if it crosses the US or its allies.
"The murderous regime and its supporters will face significant consequences if they do not change their behavior. Let my message today be clear: We are watching, and we will come after you," Bolton told the so-called United Against Nuclear Iran (UANI) summit in New York.
Mike Pompeo just added as a keynote speaker at United Against Nuclear Iran (UANI) summit.REMINDER: Leaked emails appeared to show UANI discussing funding from UAE.They've refused to answer questions about their funding and ties to foreign governments. https://t.co/voAN2ch1r9pic.twitter.com/q1brHX4IqX

— Eli Clifton (@EliClifton) September 20, 2018
"If you cross us, our allies, or our partners; if you harm our citizens...there will indeed be hell to pay," Bolton said.
Bolton said the US will be "aggressive and unwavering" when it comes to enforcing sanctions on Iran. He also referenced the European Union's plan for an Iranian payments channel, accusing Brussels of being strong on rhetoric and weak on follow-through. "We do not intend for our sanctions to be evaded by Europe or anybody else," he said.
The gathering, also attended by the likes of US Secretary of State Mike Pompeo and Mossad Director Yossi Cohen, was not without incident. Footage emerged from the conference showing activists of the grassroots movement Code Pink disrupting the event while shouting that Americans "want peace" with Iran.
Pompeo responded on stage, saying: "This is the second time I've had someone interrupt a speech on this topic, and I've reminded them all that it would be a wonderful thing if they could protest like that in the country of Iran." The comment was met with applause from the audience.
The fresh warnings to Iran come after US President Donald Trump took to the UN General Assembly (UNGA) podium on Tuesday to call Iran a "corrupt dictatorship" that sows "chaos, death, and destruction."
Trump also referenced sanctions placed on Iran, saying that Washington has launched a campaign of "economic pressure" to deny Tehran the funds it needs to advance its "bloody agenda."
"We cannot allow the world's leading sponsor of terrorism to possess the planet's most dangerous weapons," the US president said.
Hours later, it was Rouhani's turn to take to the stage. The Iranian president took aim at the Trump administration, stating that its behavior in international affairs is "authoritarian."
Rouhani slammed the US for its "illegal" withdrawal of the Iran nuclear deal, while adding that Tehran is pleased with the fact that the rest of the international community did not follow Washington's lead. "The government of the United States of America, at least the current administration, seems determined to render all international institutions ineffectual," Rouhani said.
He also accused the US of believing that "might makes right," and said it does not attempt to conceal the fact that it wishes to overthrow the very Iranian government that it is inviting to talks.
READ MORE: Rouhani slams US for 'authoritarian' foreign policy, calls on Trump to return to talks
Rouhani, however, also called for dialogue, saying it can begin with the US coming "back to the negotiating table" that it walked away from, and with ending threats and "unjust sanctions that negate the principles of ethics and international law."
Think your friends would be interested? Share this story!
You can share this story on social media: