'Witch-hunt' & 'political revenge': Hungarian top official slams EU 'nuclear option'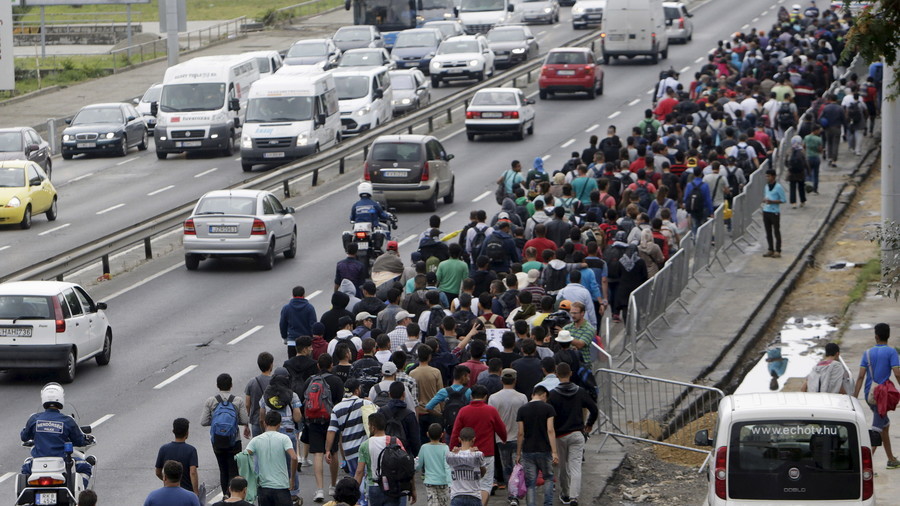 The EU parliament has violated its own rules by triggering a 'nuclear option' against Budapest, a Hungarian government spokesman told RT. He said article 7, which allows sanctions to be imposed on a country, is political revenge.
Hungary is "going to challenge the legal process – or rather a political process that was camouflaged as a legal process – in the EU parliament," Zoltan Kovacs told RT. He believes the EU parliament's vote in favor of triggering Article 7, which would allow punitive measures against Hungary "went against the treaty and violated its own rules."
Article 7 of the 2007 Treaty of Lisbon, often dubbed the 'nuclear option,' is designed to be applied if there is "a clear risk of a serious breach" of EU values by a member state and allows sanctions to be imposed on it.
MEPs voted to trigger Article 7 proceedings against Hungary on September 12.
Kovacs sees this decision as "political revenge" against Hungary for what Budapest did for the past eight years, "with a special emphasis on our stance against illegal migration in general."
According to Kovacs, the European left and liberal officials have started to use human rights issues, the rule of law, and corruption "as a scarlet letter" against Budapest. "They are trying to put us into a corner from which we have to defend ourselves. It is political blackmailing, it's a witch-hunt," the official said.
However, the eastern European nation will stand for its version of "what is happening in Europe with a special emphasis on illegal migration," Kovacs, who has repeatedly voiced his opposition to EU migrant quotas, said.
The recent situation in Europe is "a business model at the border of Europe" where human traffickers and human rights organizations are helping illegal migrants to reach the EU, the official said. These people are "going against the legal system" within which the EU should exist, he added.
Hungary "is reacting to the reality on the ground," he said, explaining that the authorities would introduce harsh measures towards those who are working together with human traffickers and explicitly help illegal migrants to cross the border. "Our intention is to put things back on their feet and restore law and order at the borders of Europe," he insisted.
Asked if Hungary might ever leave the bloc, he answered firmly in the negative. "We are not going to leave either the EU people's body, or Europe. Hungary has always belonged to the European family of states," he said.
The government of Viktor Orban has been a long-time critic of any EU attempts to force Hungary into accepting migrants. Hungarian politicians repeatedly blasted the bureaucracy in Brussels for overstepping its authority and trying to exert pressure on Budapest.
A number of Hungarian politicians criticized the decision of the EU parliament to invoke Article 7 in strong terms. Hungary's Foreign Minister Peter Szijjarto branded it the "petty revenge" of pro-migrant politicians. Ahead of the vote, Prime Minister Orban delivered a fiery speech to European lawmakers, saying that Hungary won't "accede to this blackmailing" and "will protect its borders" and "stop illegal migration."
Like this story? Share it with a friend!