Australia's strawberry needle scare spreads to New Zealand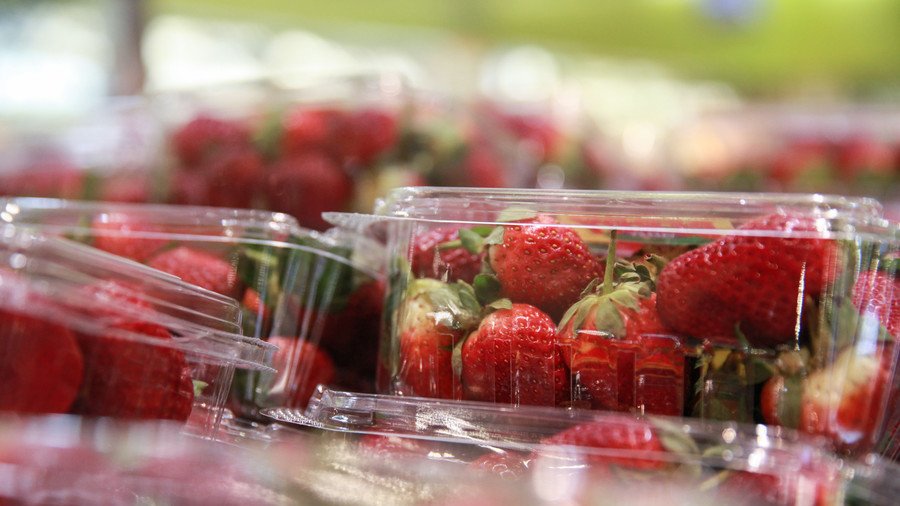 Australia's fruit sabotage has spread to neighbouring New Zealand after a punnet of strawberries contaminated with needles was sold in an Auckland supermarket.
Originating from a farm in Western Australia, this is the first time a contaminated punnet has surfaced in New Zealand after more than 100 alleged incidents of pins and needles being found in fruit such as strawberries, mangos and bananas have been reported in Australia since the scare began in the state of Queensland earlier this month.
The Choice brand strawberries were sold in a Woolworths-owned Countdown supermarket in Auckland, one of New Zealand's biggest supermarket chains. Countdown have since pulled the Australian strawberries from their shelves while the incident is being investigated.
Rival chain Foodstuffs have also halted deliveries of Australian fruit as a precaution.
In a company statement on Sunday evening, Countdown assured customers that for "their piece of mind," they are able to return any Choice brand strawberries they may have at home for a full refund.
"We take food safety very seriously," Countdown's statement read, adding that the firm was already in touch with Australian authorities investigating the presence of needles in fruit.
Maintaining that no injuries or illness caused by contaminated fruit have been reported in New Zealand, Countdown also recommended that any Choice brand fruit is cut up prior to consumption.
The news of Australia's fruit contamination scare spreading beyond its borders is the latest blow for Australian fruit growers, who have seen a plummet in demand and wholesale prices since the crisis started earlier this month.
Authorities have committed AUS$1 million to assist struggling growers cope with the crisis, while Queensland has offered a AUS$100,000 reward for any information that leads to an the arrest of someone responsible for fruit tampering.
While the majority of cases have been regarded as copycats or hoaxes, two minors have been questioned by police over reported pranks. The government has also rushed through new legislation to increase the amount of jail time for food contamination from ten to fifteen years.
Like this story? Share it with a friend!
You can share this story on social media: