'The proposals aren't enough': EU leaders denounce May's failed Brexit plan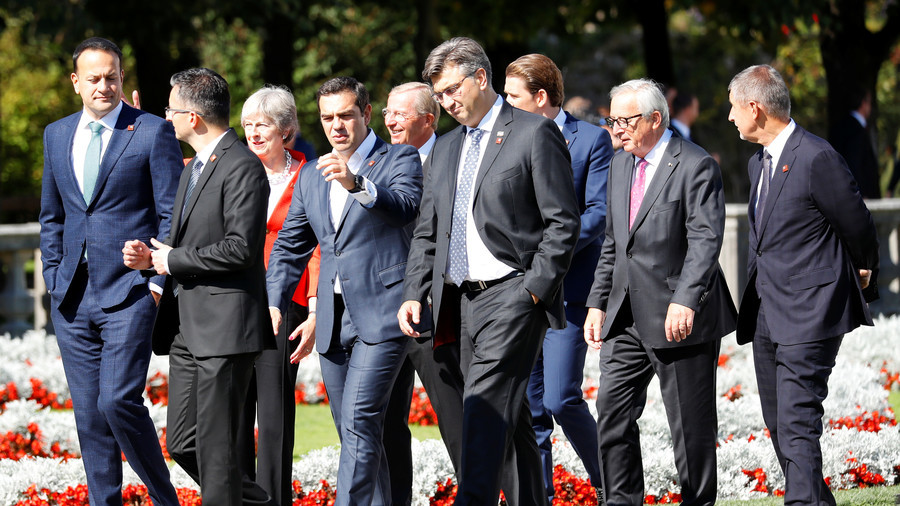 As the European Council rejected British Prime Minister Theresa May's Brexit plan, saying it puts the single market at risk, European leaders also pitched in their two cents' worth on the matter.
EU Council President Donald Tusk announced on Thursday that May's Chequers plan "risks undermining the single market," noting that all European members at the Salzburg summit agreed.
Some of those members have spoken out on their own, including French President Emmanuel Macron, who said the EU has "very clear principles regarding the integrity of the single market and regarding precisely the Irish border." He added that the UK needs to present a proposal that preserves those principles.
That comment came just hours after Macron said that those who pushed Brexit are "liars."
Dutch Prime Minister Mark Rutte referred to Theresa May's proposals as being "helpful," but "not the outcome."
Rutte expressed optimism that a deal could be reached this year, while his Belgian counterpart Charles Michel said quite simply: "The proposals are not enough in order to have an agreement."
Belgium's neighbor Luxembourg also spoke on Thursday, with Prime Minister Xavier Bettel stressing the importance of both sides giving and taking. "It's a compromise from both sides, it's not on one side," he said, while adding he believes an agreement can be reached.
That statement was similar to the one made by Austrian Chancellor Sebastian Kurz, who said he believes that "both sides are aware that they will only reach a solution if they move toward each other."
And then there was Ireland, a country which is at the heart of many of the talks in Salzburg. Prime Minister Leo Varadkar said that "time is running short" to make a deal – and although Dublin doesn't want a "no deal Brexit," it is preparing for that scenario.
"We are hiring extra staff and officials, putting in IT systems, we're ready for that eventuality should it occur," he said.
Meanwhile, German Chancellor Angela Merkel said that "substantial progress" needs to be made by October if the UK and Europe want to secure a deal in November.
"You can't belong to the single market if you are not part of the single market but you can develop a lot of creativity to find practical, good, close solutions and we still have work to do on that," Merkel said.
Despite any tensions between May and the EU, European Commission President Jean-Claude Juncker referred to the British Prime Minister's Wednesday presentation as being "interesting,""polite," and "not aggressive."
"She is doing her job," Juncker concluded.
Like this story? Share it with a friend!