Coca-Cola in 'serious talks' about branching into cannabis beverage market – report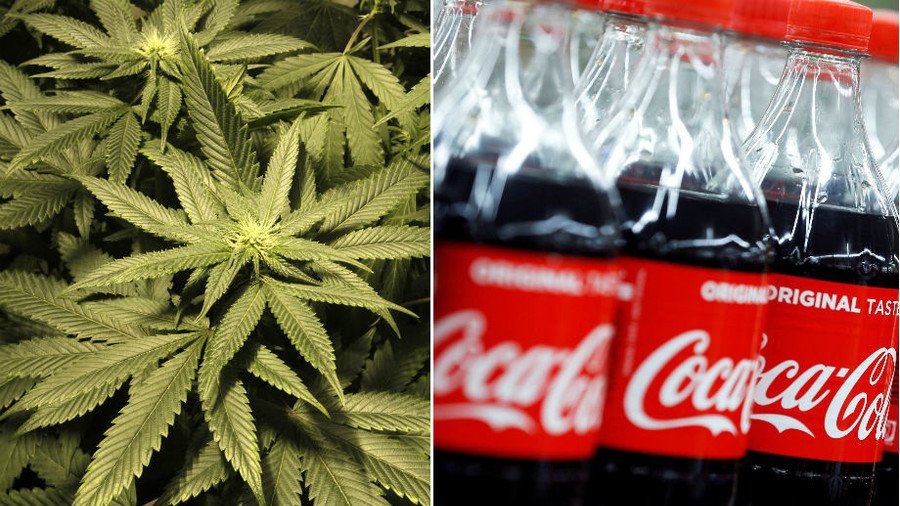 Coca-Cola is one of the most recognized brands in the world, but it could soon be known for more than just fizzy drinks. The company is looking to branch into the cannabis beverage market, according to a report.
The world's largest beverage company, based in Atlanta, is in "serious talks" with Canadian cannabis producer Aurora Cannabis Inc to develop cannabis-infused drinks, sources familiar with the matter told BNN Bloomberg.
Stoners should hold their excitement, however, because any collaboration between the two wouldn't see those who drink the beverages getting high. That's because Coca-Cola is reportedly only interested in making drinks with cannabidiol (CBD), the non-psychoactive chemical found in marijuana plants.
Although the drinks wouldn't be appealing to those seeking a high, however, they could be incredibly helpful to people suffering from inflammation, pain, and cramping, according to the report.
When asked about the potential partnership by BNN Bloomberg, Coca-Cola spokesman Kent Landers said that the company, along with many others in the industry, is "closely watching the growth of non-psychoactive CBD as an ingredient in functional wellness beverages around the world."
However, he declined to specifically comment on Aurora Cannabis Inc, and stressed that "no decisions have been made at this time."
Aurora spokeswoman Heather MacGregor also declined to comment about any talks with Coca-Cola, but did confirm that her company does intend to enter the infused beverage market.
Coca-Cola has reportedly looked at other cannabis outlets as potential partners, with one source telling BNN Bloomberg that the company had high-level talks with the Canadian company Aphria Inc two months ago, but that those talks did not progress.
If the report is true, it would be the latest move by Coca-Cola to diversify its offerings, after the beverage giant bought Costa Ltd, the UK's biggest coffee retailer, for $5.1 billion at the end of August.
Like this story? Share it with a friend!
You can share this story on social media: