'Hard as nails!': Heroic 84yo Irish great-grandad fights off 'shotgun-wielding' raiders (VIDEOS)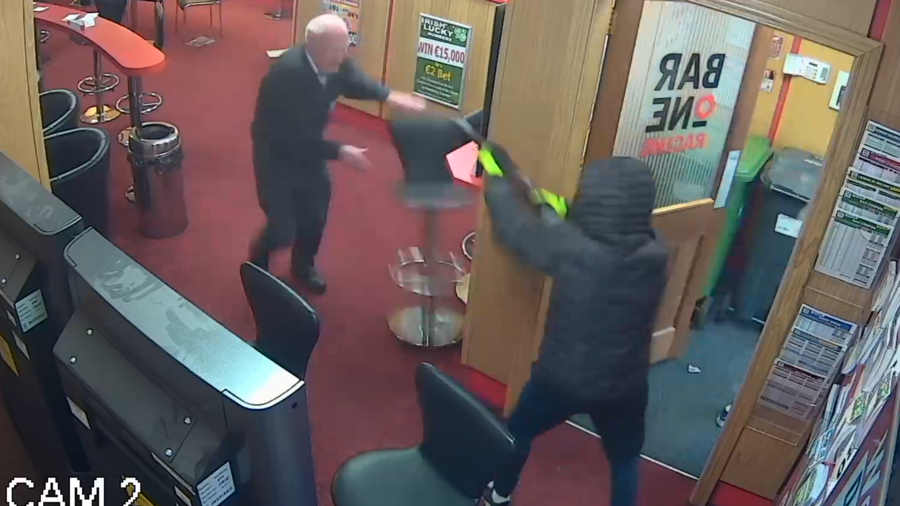 A great-grandfather from rural Ireland is being hailed as a local hero after CCTV footage of him fighting off a gang of armed raiders bare-handed went viral.
Denis O'Connor, 84, was relaxing in Bar One Racing bookmakers in Glanmire, in the south of Ireland, at approximately 6:30pm on Saturday, when a gang of three masked and armed men burst into the establishment. Two of the raiders, armed with hammers, vaulted the shop counter while a third pointed what appeared to be a shotgun at patrons, including O'Connor. Big mistake.
"I didn't really think about it – I just went for it," O'Connor told the Irish Independent."When I saw them confronting [Tim], I just acted."
While shop manager Tim Murphy grappled with one assailant behind the counter, octogenarian O'Connor rounded on a second, shoving him towards the exit before grabbing a nearby stool to fend off the third man, who was armed with what appeared to be a firearm.
Murphy and O'Connor's combined bravery thwarted the robbery and sent the would-be bandits sprinting away, falling over themselves in the process. O'Connor, who turns 85 in November, gifted one of the brigands with a boot up the backside for their trouble.
"He wouldn't stand by while anyone was in trouble – he's an absolute gentleman. It was typical of him," an unnamed local said, as quoted by the Irish Independent.
The investigation is ongoing and police are searching for a black saloon they believe was connected to the assault by three men, whom they believe to be in their late teens or early 20s.
READ MORE: Dramatic video shows Texas officer save 5 kids from blazing house
"The footage shows you that this is what people have to do to defend themselves and what they have," Local councillor Ger Keohane told the Irish Examiner."People like these criminals know that there is no Garda (Irish police) station in Glanmire… People know it's open country after Glanmire if they can get away with it."
"We're extremely proud of our staff and the courage shown by both of the men was absolutely fantastic," a spokesperson for Bar One Racing told RT.com.
Think your friends would be interested? Share this story!
You can share this story on social media: