US destroyer arrives in Mediterranean as Syria tensions rise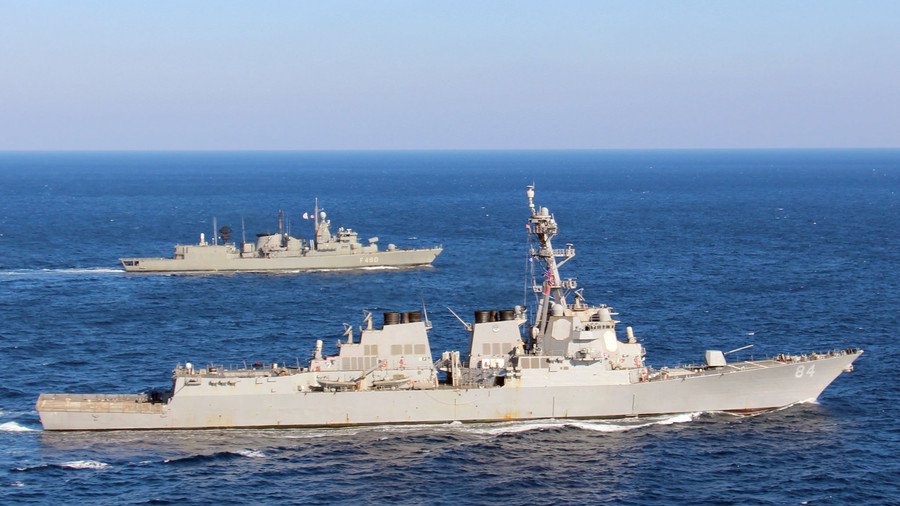 With the arrival of another guided missile destroyer to the Mediterranean, the US may have 200 'Tomahawks' ready for a strike on Syria, as Russia warns that jihadist groups in Idlib are planning a fake chemical attack.
The USS Bulkeley (DDG-84), an Arleigh Burke-class destroyer, entered the Mediterranean through the Straits of Gibraltar on Wednesday, the Russian news agency Interfax reported citing international maritime monitoring data. A Gibraltar-watcher confirmed the destroyer's transit on September 12.
With the arrival of the Bulkeley, the US forces in the region have up to 200 'Tomahawk' cruise missiles available to strike targets in Syria if ordered to do so, Interfax reported. Last week, the attack submarine USS Newport News (SSN-750) arrived in the Mediterranean as well.
Last week, Russia conducted massive naval maneuvers off the Syrian coast, culminating in marine landing drills and missile launches. The presence of Russian ships in the area was seen as a possible deterrent to further US military action against Syria.
Washington has repeatedly claimed that the government in Damascus is preparing chemical attacks against civilians in the Idlib province, the last remaining bastion of jihadist rebel groups. The most powerful of these groups is Hayat Tahrir al-Sham (HTS), formerly known as Jabhat al-Nusra; it is an affiliate of Al-Qaeda, the terrorist organization the US holds responsible for the 9/11 terrorist attacks in 2001. The White Helmets, a self-proclaimed civil defense group that operates solely in rebel-held areas, also have a presence in Idlib.
Russia has accused the White Helmets of staging a chemical attack in Idlib in order to provoke a Western military intervention in Syria. The group has already filmed at least nine videos intended to serve as evidence of claims that Damascus has used chlorine against civilians in Idlib, the Russian Reconciliation Center in Syria said on Wednesday.
Think your friends would be interested? Share this story!
You can share this story on social media: