Russian heavy drone prototype caught on VIDEO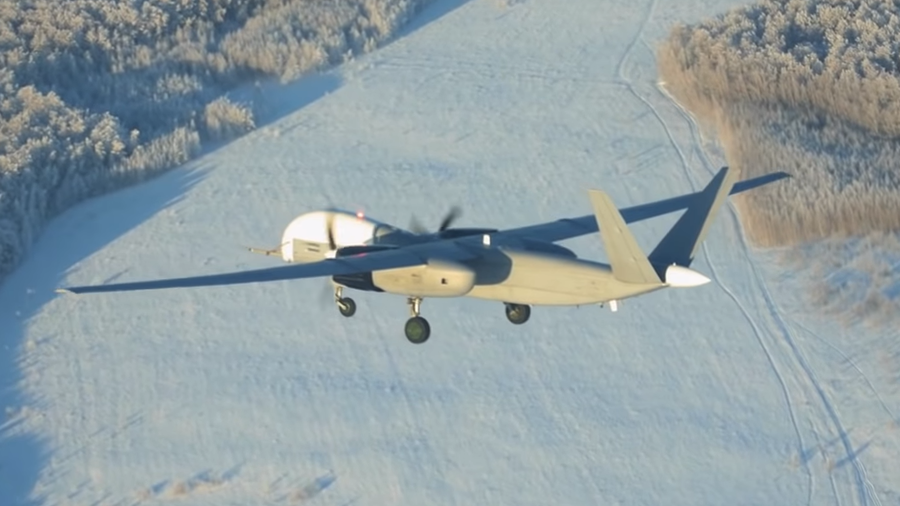 A new video showing an improved version of the Russian heavy drone Altair has been featured in a show on Zvezda TV. The prototype aircraft is believed to be capable of carrying up to two tons of cargo.
The prototype aircraft, bearing the number '03' can be seen flying in an undisclosed location in wintertime. The UAV has an array of strings attached to its wing to evaluate its aerodynamic characteristics.
The machine is likely the third prototype of the aircraft, which has received a number of improvements on earlier versions. One of the additions is a large shroud at the UAV's nose, which likely conceals a satellite antenna.
READ MORE: Russia successfully test-launches new interceptor missile (VIDEO)
The plane packs two V12 diesel engines, which boast 500hp each during lift-off. Media reports previously said that a fueled UAV weighs some five tons. Exact characteristics of the UAV still remain a mystery, but it is expected to lift up to two tons of cargo and to have a maximum range of 10,000km. The machine is be able to autonomously take off and land, but it can be guided by an operator from the ground as well.
The early mockup of the plane was first shown to the public back in 2015, while the second prototype of the machine was spotted last year at the Kazan aircraft plant.
Like this story? Share it with a friend!
You can share this story on social media: