'Get up off sofa and speak up': German FM blasts right-wing extremists after Chemnitz riots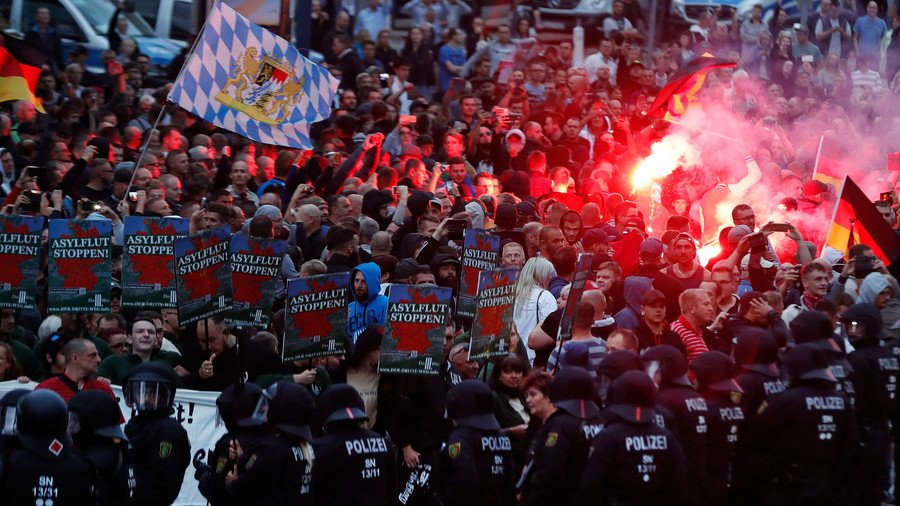 German society must firmly stand against the outbursts of right-wing extremism, Foreign Minister Heiko Maas said. His call came after right-wing protesters clashed with police at an anti-migrant rally.
"We must stand up to the right-wing extremists. We can't duck away. We must show our faces against neo-Nazis and anti-Semites," Maas told German paper Bild on Sunday. "Only then will Germany's reputation not be permanently marred by xenophobic crimes."
Reflecting on the violence, which erupted during anti-migrant demonstrations in Chemnitz the day before, the minister argued that Germans of his generation sometimes "take for granted" their existing freedoms and democracy, and that has to change.
"We'll have to get up off the sofa and speak up. The year of being in this discursive coma vigil must come to an end," Maas said, calling for his compatriots to take action.
On Saturday, the city of Chemnitz saw right-wing protesters clash with police, as well as stand-offs between anti-migrant activists and anti-fascist counter-protesters. Some 300 people were arrested, and 11 were hospitalized during the skirmishes.
Several protesters were pictured doing Nazi salutes – a move that was universally condemned by German officials. "If the Hitler salute is shown on our streets today once again, it will be a disgrace to our country," the foreign affairs chief said.
The public disturbances in Chemnitz began last week, when a 35-year-old German man, known as Daniel H. in police files, was fatally stabbed in a street fight. Two migrant men from Syria and Iraq were detained and charged with manslaughter. The initial altercation is believed to have been sparked by a verbal argument.
The first calls to rally in response to the man's murder were made by the local right-wing football hooligan group 'Chaotic Chemnitz.' The protests were soon joined by the anti-migrant AfD (Alternative for Germany), anti-Islam PEGIDA, and the right-wing group 'For Chemnitz.' While some protesters was carrying posters depicting victims of crime allegedly committed by migrants, others were filmed assaulting bystanders who they considered to be foreigners.
High-profile German officials faced criticism for seemingly staying silent as the events in Chemnitz unfolded. Interior Minister Horst Seehofer came out to offer his condolences to the family of Daniel H. three days after the protests over the man's death began.
Like this story? Share it with a friend!
You can share this story on social media: