Flesh-eating bacteria claims 71yo man's arm after he ate contaminated sushi (PHOTOS)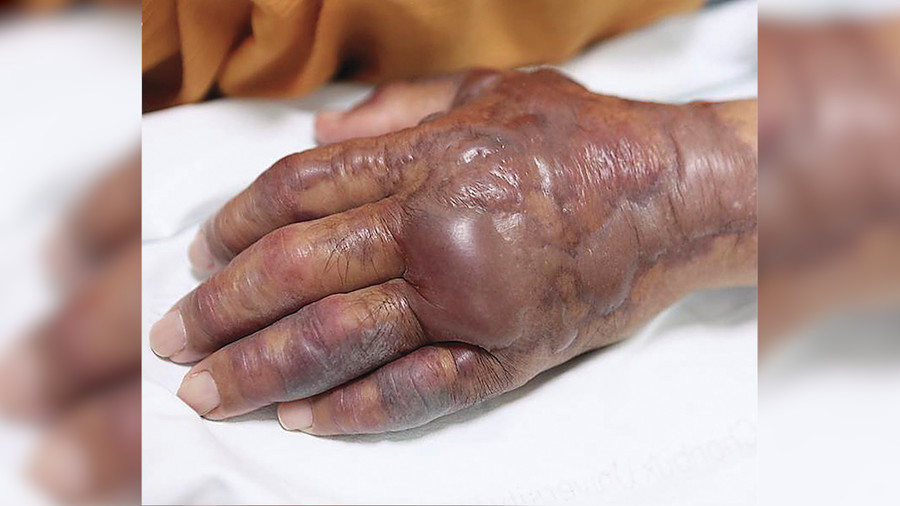 Doctors were forced to amputate a 71-year-old man's left arm after he presented at a South Korean hospital with a two-day fever and agonizing pain in his left hand, both of which developed shortly after he ate raw seafood.
Medics at the Chonbuk National University Medical School in Jeonju, South Korea were alarmed by a huge, purple blister, which measured 3.5cm by 4.5cm (1.4 by 1.8 inches), that had developed on the man's hand and forearm.

Despite emergency surgery and treatment with antibiotics to remove the blisters and contain the infection, deep necrotic ulcers formed and surgeons were forced to amputate the man's arm 25 days after he initially arrived in hospital, according to a case report in The New England Journal of Medicine.
The man had a medical history involving, among other ailments, type-2 diabetes, hypertension and final-stage renal disease.
READ MORE: Deadly flesh-eating illness has infected over 500 people in Japan
Vibrio vulnificus is a flesh-eating bacteria from the same family that causes cholera, which can enter the human body through open sores that are exposed to infected seawater or by eating contaminated, uncooked seafood.
Separately, another 71-year-old man from Florida died from an infection caused by the bacteria in June after eating raw oysters. The US Center for Disease Control and Prevention (CDC) estimates that 80,000 people are infected withthe bacteria each year, of whom roughly 100 die.
Like this story? Share it with a friend!