White Helmets accompany large delivery of poisonous chemicals to militants in Syria – MoD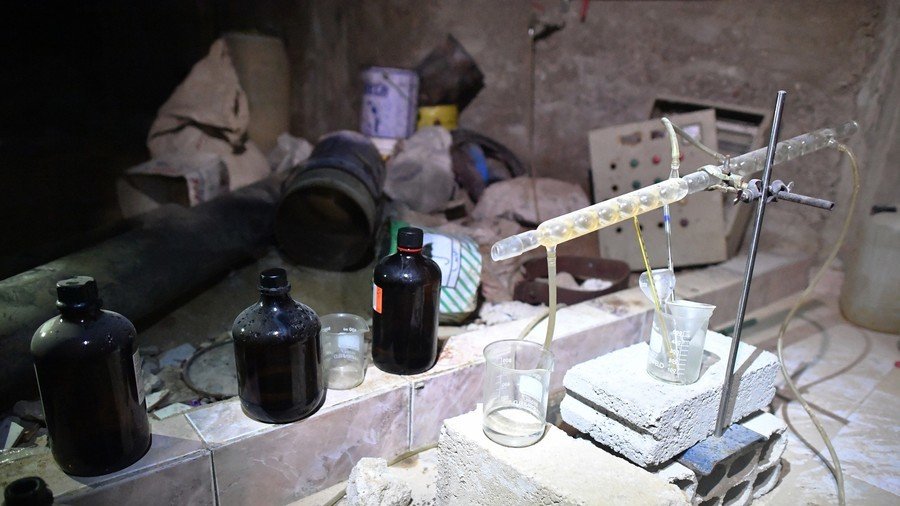 A large supply of chemicals has been delivered to the militants in Syria's Idlib with the assistance of the White Helmets aid group in order to stage a provocation and blame the Syrian government, Russia's Defense Ministry said.
The Russian military has received information from several sources in Idlib Province that "a large supply of poisonous agents has been brought to the city of Saraqib on two trucks from the village of Afs," Major-General Aleksey Tsygankov, head of the Russian Center for Reconciliation of the opposing sides in Syria, said in a statement.
The chemicals were delivered to an arms depot, used by the militant group Ahrar al-Sham, "accompanied by the eight members of the White Helmets organization," Tsygankov said, adding that the cargo was met by two high-ranked Ahrar al-Sham commanders.
"Later, a part of the load was put in unmarked plastic barrels and transported to another militant base in the southern Idlib in order to stage the use of chemical weapons and subsequently blame the government forces of employing poisonous substances against civilians," the statement read.
Earlier, the Russian Foreign Ministry warned that the US has been planning to organize a fake chemical attack in Syria in order to use it as a pretext for a strike against the Syrian government forces.
The deployment of USS Ross with 28 Tomahawk cruise missiles on board to the Mediterranean as well as the arrival of other US warships to the Persian Gulf and Qatar were part of the preparations for the attack, it added.
Washington earlier warned that it would respond to a chemical weapons used by Syrian government with retaliatory strikes, which would be stronger than those conducted against the country by the US, the UK and France in April.
READ MORE: 'Foreign specialists' may stage chemical attack in Syria in 2 days to frame Assad – Russian MoD

That assault was carried out after a report of chemical attack, which came from the White Helmets. The latter is an infamous Western-backed aid group that has been caught red-handed working with the terrorists and producing fakes to smear the Syrian government and its allies.
Think your friends would be interested? Share this story!
You can share this story on social media: