Syria-tested Russian battle robot buffed with 12 flamethrowers (PHOTOS)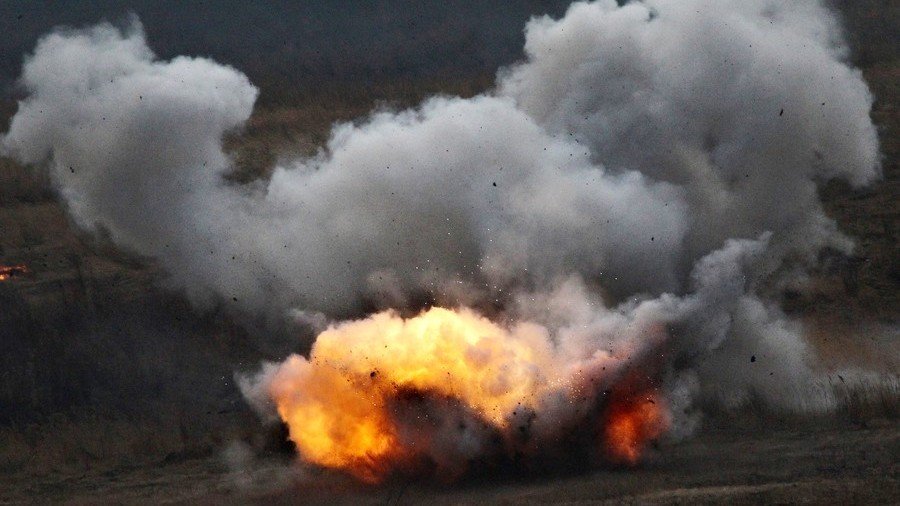 Russia's Uran-9 battle bot, which was successfully tested on the Syrian battlefield, has been considerably beefed up, new photos reveal. The formidable vehicle has now been fitted with 12 anti-personnel flamethrowers.
The upgraded Uran-9 Unmanned Ground Combat Vehicle has been spotted at the Army-2018 forum, which is being held outside Moscow near the city of Kubinka. It's being displayed at the Kalashnikov Corporation's pavilion.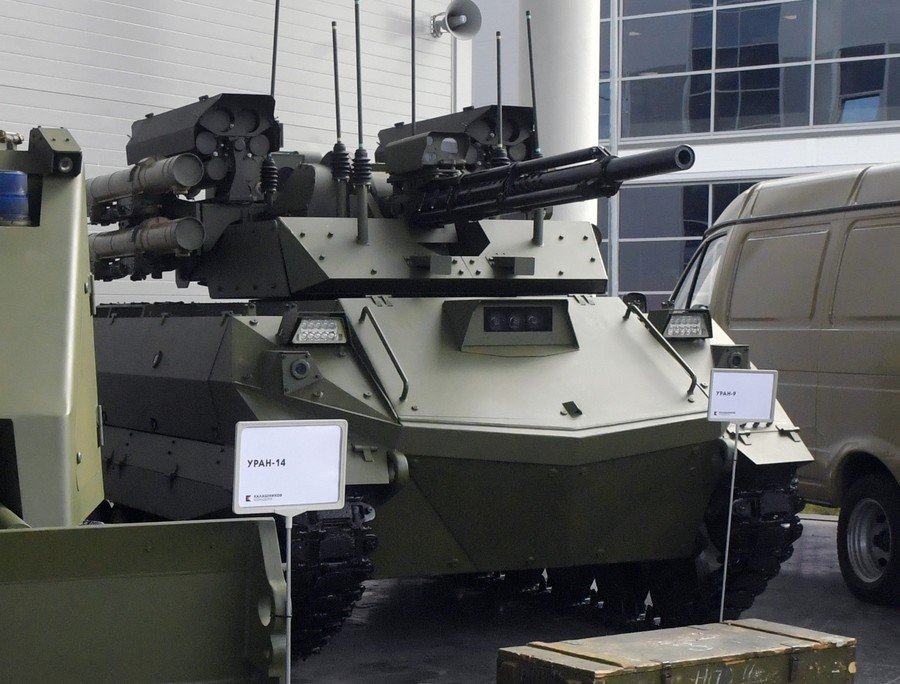 The machine has apparently received 12 Shmel-M man-portable rocket launchers classified as Rocket-propelled Infantry Flamethrower by their maker. Those can be fitted with destructive thermobaric and incendiary warheads. The flamethrowers are fitted on top of the vehicle's turret into two, presumably revolving, assemblies and appear to be a permanent add-on to the robot's firepower.
The 12-tonne vehicle has also retained its main armament, allowing it to take on tanks and light fortifications. Uran-9 has a 30mm 2A72 automatic gun, a 7.62mm PKTM machine gun, as well as four Ataka anti-tank guided missiles. The robot can be also fitted with Igla MANPADs, boosting the anti-aircraft capabilities of the unit it's deployed with.
READ MORE: Warfare, rap & shaking hands with Putin: Meet the Russian robots' futuristic advances
Uran-9 has been successfully tested during Russia's anti-terrorism campaign in Syria. The machine "showed itself well" in combat, according to the Defense Ministry. Other robotic novelties, which saw real action in the country, include its demining 'cousin' of the combat robot, Uran-6, as well as two situation awareness systems, the larger Skarabey and tiny Sfera bots.
Like this story? Share it with a friend!
You can share this story on social media: