'Foreign specialists' may stage chemical attack in Syria in 2 days to frame Assad – Russian MoD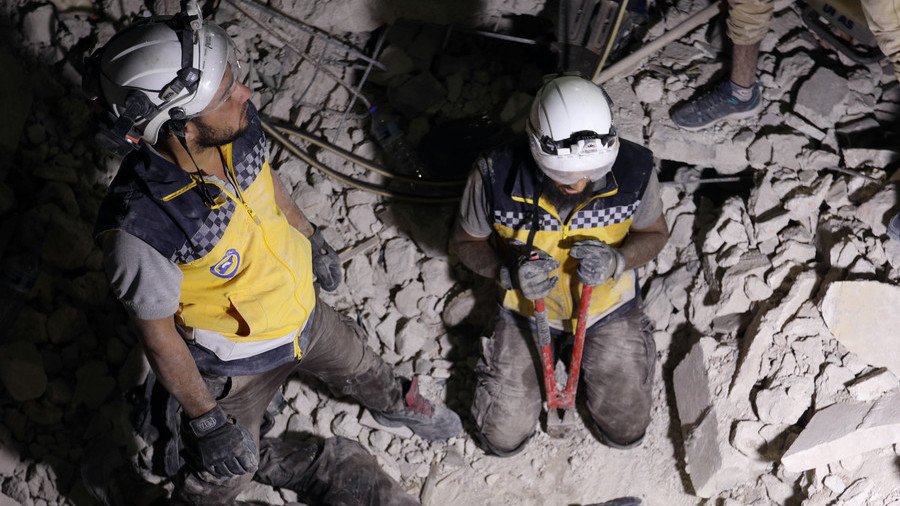 "Foreign specialists" have arrived in Syria and may stage a chemical attack using chlorine in "the next two days," the Russian Defense Ministry said. This will be filmed for international media to frame Damascus forces.
Defense Ministry Spokesman Major General Igor Konashenkov said the operation is planned to unfold in the village of Kafr Zita in Syria's northwestern Hama Province in "the next two days."
Konashenkov said that "English-speaking specialists" are already in place to use "poisonous agents." While a group of residents from the north has been transported to Kafr Zita and is currently being prepared "to take part in the staging of the attack" and be filmed suffering from supposed "'chemical munitions' and 'barrel bombs' launched by the Syrian government forces."
The groups of residents will be used to assist "fake rescuers from the White Helmets." They will be filmed apparently suffering from the effects of chemical weapons and then be shown in "the Middle Eastern and English-language media."
The defense ministry earlier warned that the US, UK, and France are preparing to use the planned attack as a pretext for airstrikes against Syria. The USS The Sullivans, an Arleigh Burke-class Aegis guided missile destroyer, was already deployed to the Persian Gulf a couple of days ago.
On August 22, US National Security Adviser John Bolton stated that "if the Syrian regime uses chemical weapons, we will respond very strongly and they really ought to think about this a long time."
Russian Deputy Foreign Minister Sergey Ryabkov earlier warned that the US is not finished looking for pretexts for regime change in Damascus.
In April, the US, UK, and France unleashed a bombing campaign on Syria in response to an alleged gas attack in Douma, which the West blamed on Bashar Assad's government. The operation started hours before a team from the Organization for the Prohibition of Chemical Weapons (OPCW) was due to reach the city.
Think your friends would be interested? Share this story!
You can share this story on social media: