Back in action: Mount Etna, Europe's most active volcano, spews lava and ash (VIDEOS)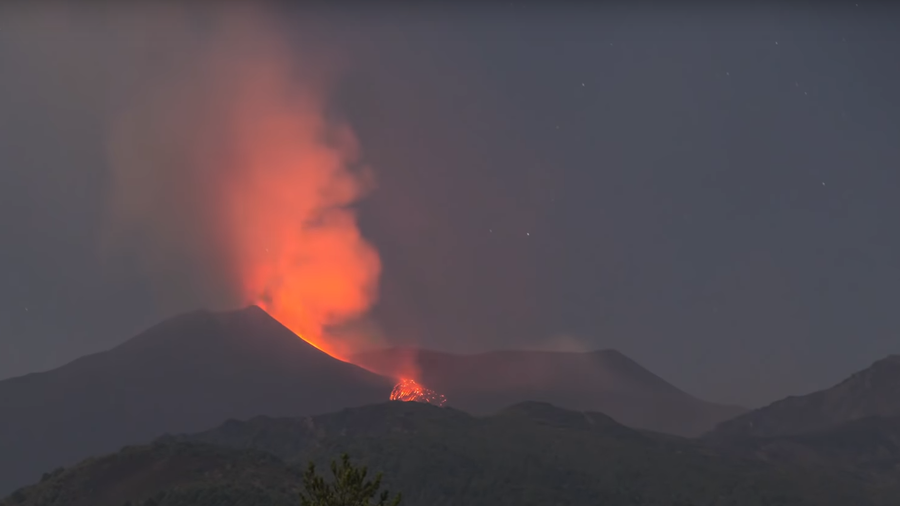 Europe's most active volcano, Mount Etna, is back in action, spewing smoldering rocks, ash, and molten lava onto its surroundings.
Mount Etna's spectacular eruption was filmed on Saturday. Footage shows red hot lava pouring out of the mountain's crater, with smoke and ash billowing into the atmosphere. The slopes of the fiery mountain are covered with hot and slowly cooling rock, giving it a hellish glow at night.
Mount Etna initially reawoke in late July, and fully resumed its fire-spewing activities this week. The lava kicked in late on Thursday, and the volcano showed a surge in seismic activity, Italy's National Institute of Geophysics and Volcanology said. The tremor was followed by a flow of molten lava and a thick plume of ash.
In March, scientists found that Mount Etna is actually sliding into the Mediterranean Sea. Apart from the eruptions themselves, the shifting of an active volcano can potentially trigger disastrous landslides, and even tsunamis – which are not a very common occurrence in Europe, to put it mildly.
READ MORE: Mt Etna's sliding toward sea, 'catastrophic' tsunamis & landslides on horizon
"This is the first time it's been observed in an active volcano," the study's lead author, John Murray of the Open University, told RT back then. "While it has been known to happen in extinct volcanoes, this is the first time it's been demonstrated for the whole volcano to be moving like this."
Think your friends would be interested? Share this story!
You can share this story on social media: