Mt Etna's sliding toward sea, 'catastrophic' tsunamis & landslides on horizon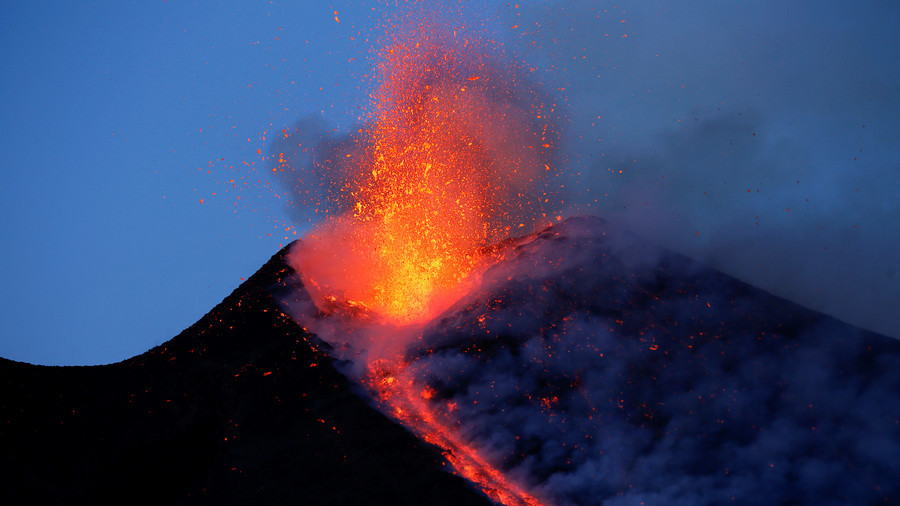 Mount Etna is slowly sliding into the Mediterranean Sea, according to the first study which confirms the entire active volcano is shifting and could trigger catastrophic landslides and devastating tsunamis.
Scientists have confirmed for the first time that the entire volcano is moving in an east-south-east direction towards the town of Giarre, at an average rate of 14mm (.55 inches) a year. That's according to the study published in the Bulletin of Volcanology.
"This is the first time it's been observed in an active volcano," the study's lead author, John Murray, of the Open University told RT. "While it has been known to happen in extinct volcanoes, this is the first time it's been demonstrated for the whole volcano to be moving like this."
Researchers were able to determine the whole volcano is on the move by using a series of more than 100 GPS stations located around Mount Etna, which they monitored for 12 years.
"Parts of it move a great deal during eruptions, that's been known for some time," Murray said. "We did the the study looking at what happens between eruptions. It's only then you can see that it's not just the east flank, but the whole lot is actually sliding towards the sea, which is something of a surprise."
Although the pace of the sliding volcano means it doesn't pose an immediate threat, Murray thinks it's important to "continue to monitor it because if something did happen then the effects would be absolutely devastating."
"When you look at the geological records of extinct volcanoes, particularly in South America, there are lots that are built on slopes in a similar manner," Murray said. "Most of those, later in their history do show these catastrophic collapses on the down slope side so you know that's why it could, in the distant future, be very worrying."
Whilst there is no sign of this happening to Mount Etna in the near future, the continued movement could create a build-up of stress which could trigger shifts in the landscape. Mt Etna is located on top of a layer of sedimentary rock.
"Mt Etna is one of the most active volcanoes in the world, probably the most active volcano at the moment, and we've had literally hundreds of eruptions in the last five years," Murray said. Located on the east coast of Sicily, Italy, it has erupted 200 times since 1500BC, when its earliest reported eruption took place.
"It doesn't fit the standard model of a volcano – that's another reason why I've kept at it, because I've wanted to understand it," Murray said. "It still continues to surprise me."
Think your friends would be interested? Share this story!