'Not my GOAT': Cristiano Ronaldo panned for 'angry' & 'selfish' reaction to teammate's goal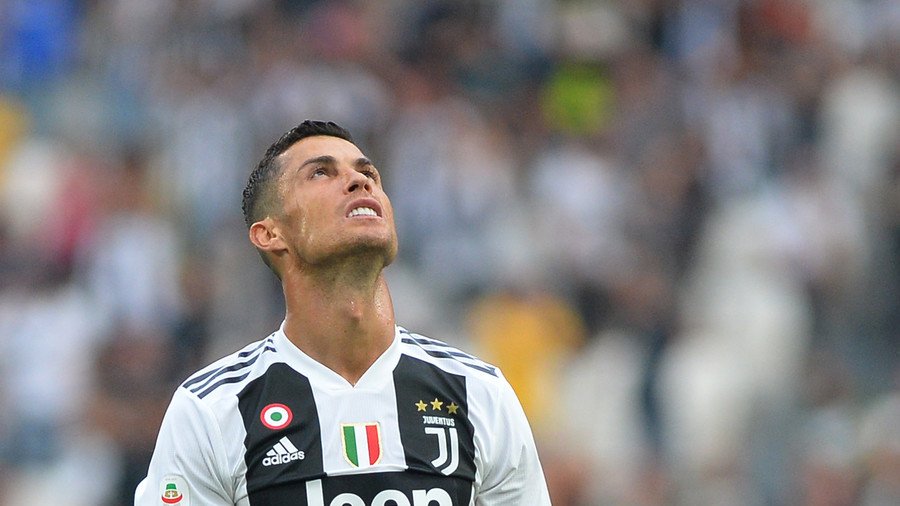 Juventus forward Cristiano Ronaldo has been admonished by football fans after appearing to react 'angrily' to Mario Mandzukic's goal after he himself missed an open net in the club's 2-0 win over Lazio on Saturday.
Despite a man-of-the-match performance, Ronaldo failed to score as 'The Old Lady' recorded a win against the Rome club to make it two Serie A wins from two this season, picking up maximum points along the way. The 33-year-old has now not scored in both of those matches since his $117 million move from Real Madrid
READ MORE: Cristia-no goal: Juve win but Ronaldo fails to find net on home debut
Miralem Pjanic and Mario Mandzukic gave the champions the points with goals either side of half-time, with Mandzukic netting a 75th-minute volley after Ronaldo scuffed a chance to net from just inches out with the goal gaping.
Although Mandzukic scored when the ball ricocheted off his teammate's heels, Ronaldo threw his arms in the air rather than celebrating initially with the rest of his teammates, in an action that has been interpreted as "angry" and "selfish" by football fans, some even declaring him as "not the GOAT" (greatest of all time).
However, the five-time Ballon d'Or winner was not without his supporters, who had a brighter view of the situation, calling the alleged huff the actions of a "leader". Ronaldo did join in the celebrations of the goal with Mandzukic and the rest of the Juve players seconds later.
In all, it seems the knives have been drawn for Ronaldo, who became Real Madrid's top scorer of all-time in a nine-year stint at the Bernabeu, after he failed to break his scoring duck in Italy at the second attempt.
Unsurprisingly, the Twitterati helped themselves to a plethora of humorous gifs, memes and one-liners on Cristiano's cursed first two games.
There were chances in the match for the Portugal captain, who netted four goals for his country in the recent World Cup in Russia, but it wasn't enough to get himself a goal.
The news was certainly a shot in the arm for fans of Lionel Messi, with whom Ronaldo is constantly compared and measured against in the battle for the 'best player in the world' and 'GOAT' tag.
READ MORE: Juventus stock soars ahead of Ronaldo home debut as club cash in on Cristiano
Juventus have seen their stock soar since Ronaldo's arrival, with shares in the club now valued above €1 ($1.16) and the club itself valued at more than €1 billion, although Ronaldo is still yet to pay proper dividends on the pitch.
Will it be third time lucky for Ronaldo? We'll find out in Juve's next game versus Parma on September 1.
You can share this story on social media: