Iran deal, Syrian crisis & Nord Stream 2: Putin, Merkel find common ground on tough intl issues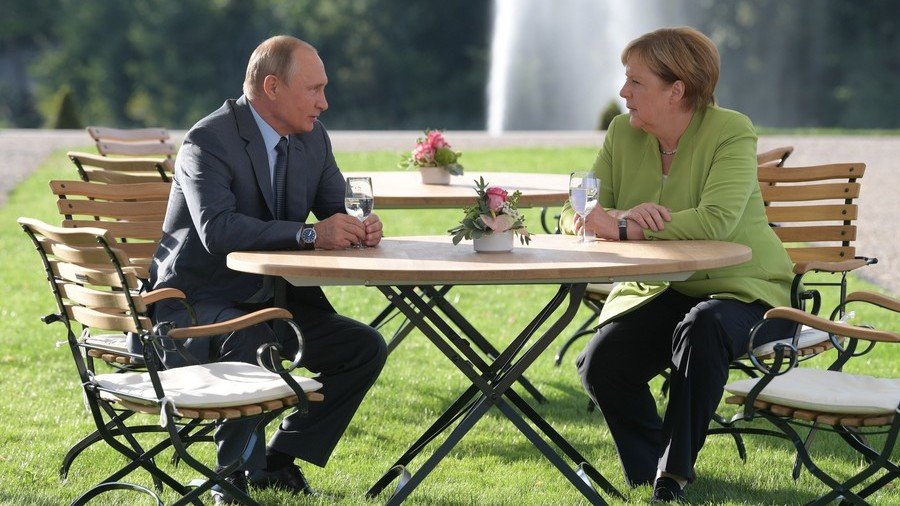 The Iran nuclear deal, which was recently ditched by the US, humanitarian efforts in war-ravaged Syria, and the Nord Stream 2 pipeline project… Putin and Merkel hold three-hour talks and are mostly on the same page.
The surprise visit announced earlier this week between German Chancellor Angela Merkel and Russian President Vladimir Putin took place in Meseberg Palace, 65km north of Berlin, on Saturday afternoon. Putin arrived in the 18th-century palace shortly after attending the wedding of Austrian FM Karin Kneissl.
Both Russia and Germany have been affected by US tariffs, while Moscow has also been hit by sanctions. As rifts with Washington grow, the two leaders found some common ground in their detailed three-hour talks.
Purely economic project Nord Stream 2
The €9.5 billion (US$10.8 billion) pipeline project was one of the key talking points at the meeting. During the Saturday media conference, Putin said the Nord Stream 2 is a "purely economic project" and does not mean the transit of gas through Ukraine will stop. "I am aware of the Federal Chancellor's position. All that matters to us is that this transit is economically feasible… and makes economic sense."
During the closed talks, Putin and Merkel discussed the project and the prospects for Russian gas transit through Ukraine. Merkel said that even after the launch of the Nord Stream 2, Ukraine "should play its part in gas transit to Europe."
READ MORE: Putin & Merkel could stick it to Trump as they look to bring Nord Stream 2 over the line
Merkel and Putin are obviously aware of the backlash from Washington and some Western politicians on the joint project between Gazprom and Western European energy giants. European Council President Donald Tusk has campaigned endlessly for the cancelation of Nord Stream 2 ever since it was announced in 2015. US President Donald Trump has also expressed strong opposition to the project, calling Germany a captive of Russian energy. The US leader has made no secret of American ambitions either, promising during his last whirlwind tour of Europe that Europeans will be buying "vast amounts" of US-produced liquefied natural gas (LNG).
Iran: Merkel, Putin stand for saving nuclear deal recently dumped by US
Both the Russian leader and the German chancellor are in favor of preserving the milestone Joint Comprehensive Plan of Action, also known as the Iran nuclear deal.
Speaking ahead of the meeting, Putin insisted that it is important "to preserve this multilateral agreement" approved by the UN Security Council, which aims at "strengthening regional and global security and the nuclear non-proliferation." Merkel also supports the deal, but noted that Germany is "following Iran's activities with concern, be it the missile program or the situation in Syria."
READ MORE: 'Iran Action Group' a new US tool of regime change, but Tehran's resilience is 'strong' – researcher
It has been three months since Donald Trump, a long-standing critic of the Iran deal, pulled out of the agreement, despite the fact that the International Atomic Energy Agency (IAEA) confirmed Tehran's compliance with the deal on numerous occasions. The US president also ignored attempts of world powers, including France and Germany, to talk him out of withdrawing.
Putin calls upon Europe to help rebuild war-ravaged Syria
The leaders also tackled the crisis in Syria, which is trying to get back on its feet after militants were expelled from large parts of the country. Putin pointed out the intensifying flow of refugees returning home and called on European countries to support the process.
"We need to strengthen the humanitarian effort in the Syrian conflict," he said, adding that he'd like to see humanitarian aid to the Syrian people and help to those regions where refugees living abroad can return.
Putin said there are millions of refugees in Jordan, Lebanon and Turkey, which is "potentially a huge burden" for Europe. "That's why we have to do everything to get these people back home" and restore "basic services" such as healthcare or water supplies. "And I think that everyone is interested in this, including Europe."
Ahead of the meeting, Merkel also noted that "we, of course, should first of all, avoid a humanitarian disaster around and in this country [Syria]."
The two sides also discussed the possibility of a four-way meeting on Syria, involving Turkey, Russia, Germany and France, the Russian president's spokesman said. The idea of the format was proposed in late July by Turkish President Recep Tayyip Erdogan, who suggested holding talks on September 7.
On Friday, Merkel said that Germany is looking into the possibility of such a summit: "A meeting between Germany, France, Turkey and Russia could make sense — this must be well-prepared, so there is no date yet."
Think your friends would be interested? Share this story!
You can share this story on social media: