Putin & Merkel meet to discuss Nord Stream 2 pipeline outside Berlin (VIDEO)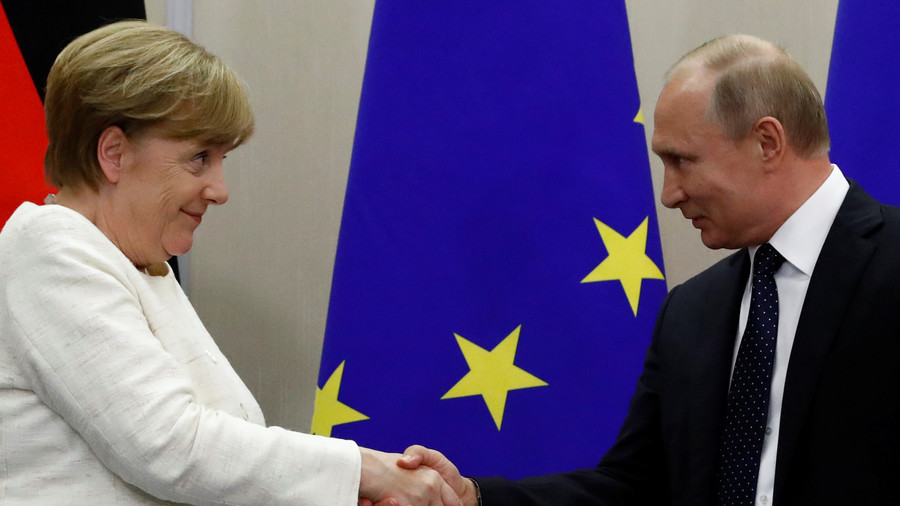 Russian President Vladimir Putin and German Chancellor Angela Merkel met at Meseberg Palace, 65km north of Berlin, to discuss the Nord Stream 2 pipeline project, which Trump recently called a "horrible mistake."
Speaking during a joint press conference with Merkel ahead of the meeting, Putin stressed that the project is "purely economical" and does not mean the transit of gas through Ukraine will end.
The meeting is likely to spark anger from the Trump administration, after the US president said it was a "tragedy" that Germany had agreed to the pipeline deal with Russia.
EU officials, including European Council President Donald Tusk, have expressed concern that the completion of the Nord Stream 2 project would lead to Ukraine missing out on €2.5 billion (€10.8 billion) in annual transit fees that Ukraine receives from the current pipeline.
Trump, meanwhile, has called the pipeline partnership a "big mistake," claiming it equates to Germany being a "captive" of Moscow.
The US president has instead pushed American liquefied natural gas (LNG) as a suitable alternative to Russian gas, saying during his last tour of Europe that locals would soon be buying "vast amounts" of US-produced LNG.
The $11-billion Nord Stream 2 pipeline project aims to double the existing pipeline's current annual capacity of 55 billion cubic meters. It is expected to become operational by the end of next year, with both Germany and Russia insisting that the project is a private business affair.
Putin and Merkel also said they would be speaking about other issues, including Syria and Iran. "We need to step up our humanitarian efforts" in Syria, Putin said, adding that a goal is to see refugees return to their homes.
Merkel, meanwhile, said that while she would like to see the Iran nuclear deal preserved, "we are also concerned about the missile program of Iran."
Think your friends would be interested? Share this story!