Cosmonauts accidentally break RT 360 GoPro camera during eight-hour spacewalk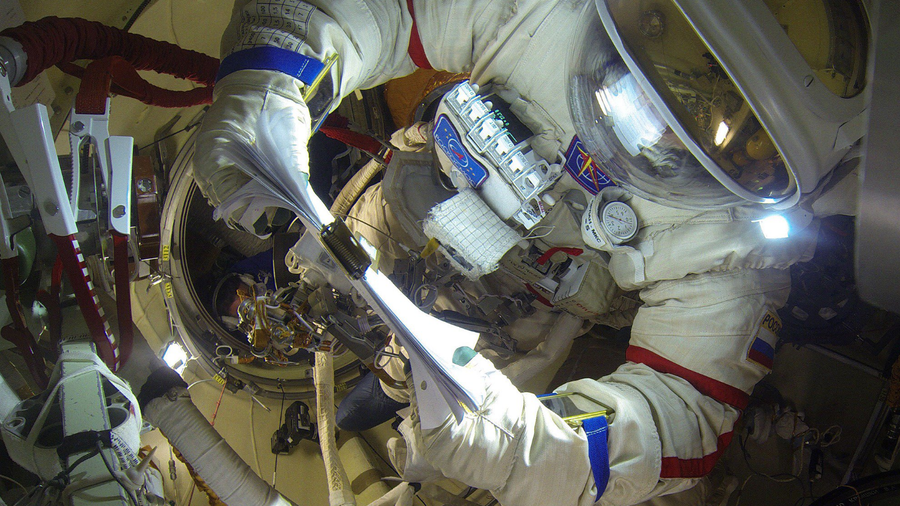 Cosmonauts broke one of the cameras recording their long spacewalk outside the ISS for RT's panoramic 360 content. They had been tasked with launching four small satellites and tracking bird migration from space.
"We are 10 minutes behind schedule because of an abnormal situation. A GoPro camera broke," aerospace corporation Energia commented during the spacewalk on Wednesday.
Flight engineers Oleg Artemyev and Sergei Prokopyev, who were performing the spacewalk, were fitted with several cameras, and the camera in question was recording a 360-degree video for RT, the rocket-maker explained.
Mandatory courtesy: Roscosmos.
The cosmonauts "didn't know how to attach" the camera, so "its plastic case got damaged," the Energia representative said, but added that the device managed to successfully record the required footage before its feed became distorted.
READ MORE: Sandstorm from space: ISS astronaut snaps epic images of Sahara tempest
During their time outside the ISS, the cosmonauts manually launched four small research satellites and conducted several experiments. One of the experiments, dubbed 'Icarus,' involved tracking the migration of birds and animals on Earth. It was jointly designed by the Russian space agency, Roscosmos, and the German Aerospace Center. Installing the equipment for the 'Icarus' project made the spacewalk last for 7 hours 46 minutes instead of the planned six hours.
Artemyev and Prokopyev are part of the Expedition 56 on board of the ISS. Other members of the crew are NASA's Andrew Feustel, the mission commander, astronauts Richard Arnold and Serena Aunon-Chancellor, and Alexander Gerst of Germany.
Like this story? Share it with a friend!
You can share this story on social media: