Facebook restores Telesur page with vague explanation of controversial block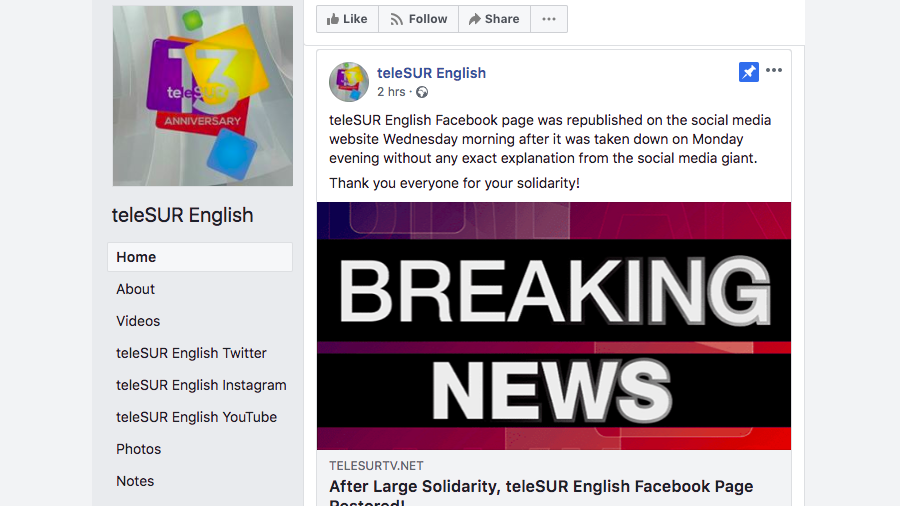 The English language page of the Latin American channel Telesur has reappeared on Facebook after two days. The social network offered a vague technical explanation for the move that sparked concerns of censorship worldwide.
"The team informs me that there was instability on the platform, which caused this problem, but now everything should be in order," Telesur quoted a support technician at Facebook as saying soon after the page was restored.
Telesur's page had disappeared Monday evening, as Facebook sent a form letter informing the network it might have violated the platform's terms of use – without specifying which ones and how.
"This is an alarming development in light of the recent shutting down of pages that don't fit a mainstream narrative," Telesur said in a statement reacting to the deletion.
Having been deleted on Facebook earlier this year, Telesur had been "even more careful" with its posts and broke "absolutely none" of Facebook's terms, the network's former director Pablo Vivanco told RT.
Telesur has broadcast worldwide in Spanish since 2005, and in English since 2014. Its Facebook page had almost 400,000 likes. The network is based in Caracas, Venezuela, and receives funding from the governments of Venezuela, Cuba, Nicaragua, Uruguay and Bolivia.
READ MORE: Telesur page takedown: Facebook becoming 'US govt's censorship vehicle'
Under the Trump administration, the US has taken a hard line on Venezuela, disputing the legitimacy of the country's elections and calling President Nicolas Maduro a "dictator."
Last week, Facebook deleted the page of Venezualanalysis, an outlet unrelated to Telesur that offered leftist commentary on Latin American affairs. Though Facebook later reinstated the page, Venezualanalysis received no apology or explanation for its removal.
READ MORE: MSM talk coup in Venezuela because it sits on oil US empire wants – Abby Martin
In May, Facebook announced it was partnering with the Atlantic Council, a NATO-allied think-tank, to fight "emerging threats and disinformation campaigns from around the world." The partnership has raised concerns about Facebook restricting content on the platform on the basis of political views.
Think your friends would be interested? Share this story!
You can share this story on social media: