Telesur page takedown: Facebook becoming 'US govt's censorship vehicle'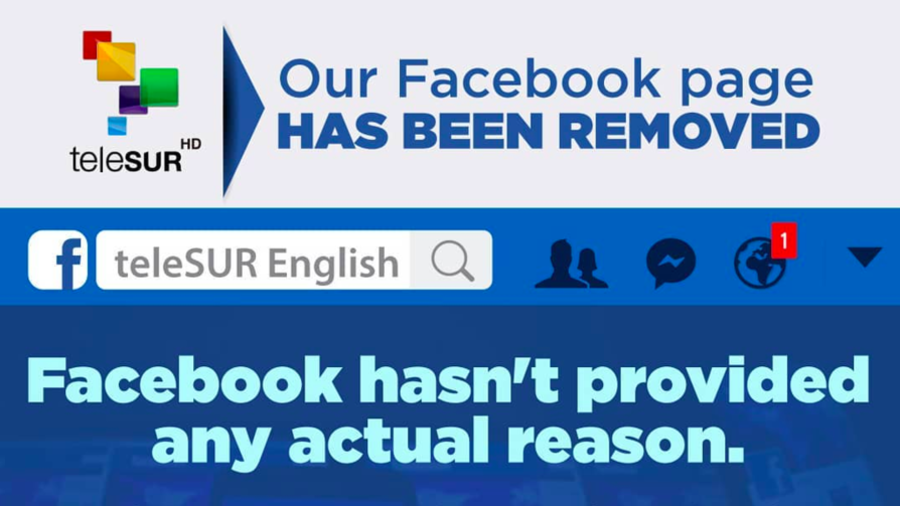 The decision by Facebook to delete left-leaning Latin American news network Telesur's English language page with no explanation has only added to concerns over censorship and US government interference on the platform.
Having been deleted on Facebook earlier this year, Telesur had been "even more careful" with its posts and broke "absolutely none" of Facebook's terms, former director of Telesur, Pablo Vivanco, told RT.
Vivanco believes there is no justification for the social media giant to have removed the page once again, stressing that on Telesur, there was "always a process to ensure accuracy and journalistic ethics."
While Facebook admitted that it was a mistake the last time it took down Telesur's page, there are fears the incidents are links in a chain of tightening government censorship of dissenting voices.
Speaking to RT, James Petras, Professor Emeritus at Binghamton University and an expert on Latin America said that the US government — which did not recognize the recent re-election of president Nicolás Maduro as legitimate and has placed fresh economic sanctions on the country — is engaged in "an attempt to overthrow the [Venezuelan] government" and that targeting uncooperative media was one way in which they were doing it.
Washington, Petras said, is using social media platforms like Facebook to "isolate" the country and Facebook is willingly trying to "ingratiate" itself with US authorities. "The US is at war now with Iran, Russia, China, the EU and Venezuela and any dissident voices, so as the authoritarian position of the US increases, Facebook and other media are under increasing pressure to abide by the line that comes out of Washington," Petras said.
READ MORE: Facebook's anonymous censors take down Latin America's Telesur, and nothing can stop them
He also predicted that more censorship from Facebook was likely in the future and that it would be directly correlated with US warmaking and economic sanctions around the world. "They want to create a global opinion that abides by US policy," he said.
Telesur's Head of Web, Tatiana Rojas, told RT that the outlet was one of the only news sources reporting "from a different perspective than US mainstream media" on recent events in Venezuela, including the recent assassination attempt against Maduro.
Rojas said that while she hoped it was a mistake on Facebook's part, there are reasons to be worried that the platform will become "a place where plurality is not going to be allowed anymore" and where alternative perspectives will not be given space.
Vivanco said that "hysteria" around Russigate had enabled further censorship and that there were now well-founded reasons to indicate that Facebook is "collaborating" deliberately with Washington to target certain kinds of content.
He said that reason why so many people are suspicious of "fake news" today is because there is "a generalized concern among people that they are being lied to about what is really happening in the world" and that this could explain the rise in outlets giving an alternative perspective on world events.
"There appears to be a concerted effort to shut down voices that will challenge the way people are told they should see the world," he said.
Think your friends would be interested? Share this story!
You can share this story on social media: