18yo Instagram girl praised for sheltering homeless man in Siberia (PHOTOS)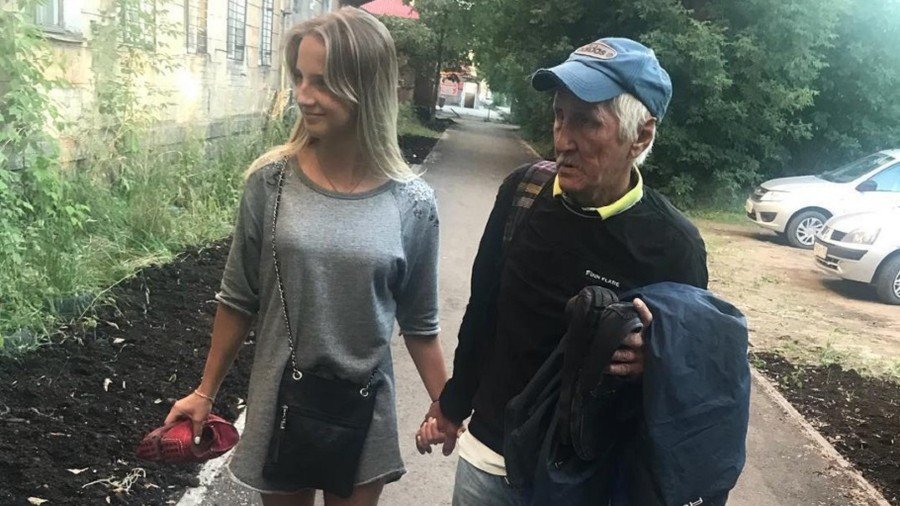 A school graduate in the Siberian city of Perm proved she wasn't only after stylish selfies on Instagram as the soft-hearted girl provided shelter to a homeless man when she heard the tragic story of his life.
In late July, Violetta Nikolskaya posted a photo of a tattered man with sad eyes, introducing him as 62-year-old Uncle Tolya. "The man lives in the street (not an alcoholic). His nephew kicked him out of his home… He's disabled and suffers from asthma. And after a recent stroke he has difficulty walking."
The 18 year old urged her followers on Instagram to donate small sums of money so that the homeless man could put a roof over his head.
The girl said she met the old man, whose full name is Anatoly Spiridonov, in the street six months ago. She's spoken to him regularly since then and learned "everything about him." Around a decade ago, the man was working in a fishing crew on the Shikotan Island in the Kurils in Russia's Far East.
However, on his way home to Perm he was robbed, and his wife showed him the door because he returned without money. Spiridonov than went to live with his elderly mother, but was forced out after his nephew moved into her apartment.
He's been homeless ever since, but a lucky meeting with Violetta changed his life. The next photo on the girl's Instagram page showed Uncle Tolya sitting on a sofa in a newly-rented flat.
People's donations and help from Violetta's father was enough to pay for the apartment for six months, get the man a smartphone and also buy him food and medicine.
"He simply couldn't find words to express his gratitude," when he found out that he won't be sleeping in the streets anymore, Violetta wrote. The girl says she's been busy doing paperwork so that Uncle Tolya could receive pension benefits from the state.
"He's like my granddad and I'm his beloved granddaughter. I visit him every day and he treats me with his signature rice pilaf," Violetta wrote.
The Instagrammer explained her kind deed, widely praised on social media, by saying: "I always thought that one should help those in need, those who are weaker than him."
"Well done! You parents have raised an amazing girl," wrote one of those reacting to the story, while another added: "Thank you for a good example, proving that the one, who wants to change the world, should start with himself."
"Girls of your age rarely feel compassion towards such people living in the street. It's great that you are like this. Thank you for your kindness," another comment read.
However, there were some bitter replies as well, with one of the comments decrying the whole story as "Nymphet's caprice! Good life has gone to her head."
"Daddy found a cool tramp so that the gal could hype herself up," another skeptical user wrote.
Meanwhile, several people have advised Violetta to seek legal help to clear up the situation with Uncle Tolya's own home, suspecting the nephew might have thrown the old man out illegally.
Think your friends would be interested? Share this story!
You can share this story on social media: