'Pro-Russia' t-shirts at Trump rally go viral, sending Democrats into meltdown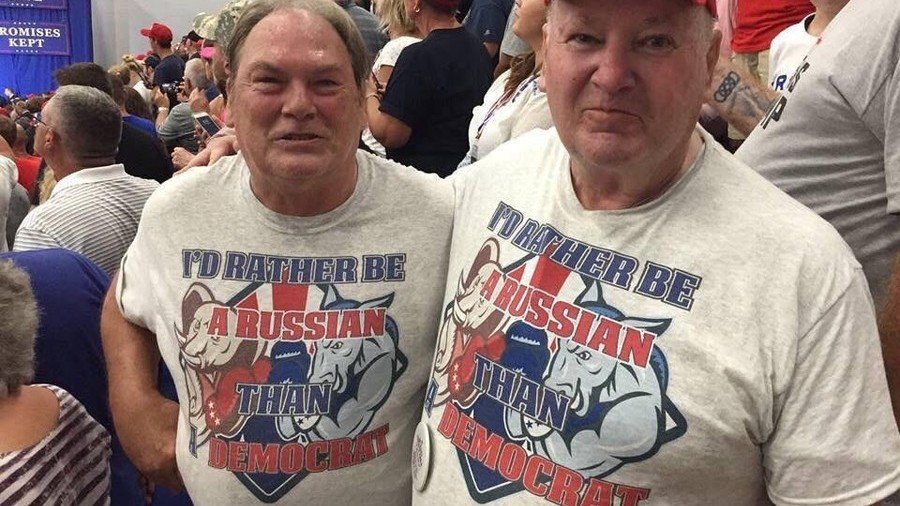 Two ardent Republicans expressed their support for US President Donald Trump — and their disdain for the Democratic Party — in a fairly original way during a rally held by the president in Ohio at the weekend.
Cleveland photographer Jeremy Pelzer spotted the two friends, who had travelled from the city of Delaware to attend the Trump rally, wearing matching t-shirts displaying the controversial slogan: "I'd rather be a Russian than a Democrat."
Unsurprisingly, the photograph has since gone viral and the seemingly pro-Russia sentiment has Democrats fired up in outrage at the thought of Trump supporters "proudly choosing Russia over their fellow Americans".
Some Twitter users felt that if the two Republicans really wanted to be Russians they should be granted their wish and take up residence in Russia, while others were so angered by the slogan that they claimed the two men were "not Americans anymore".
Some were convinced that the t-shirts signalled that Russian President Vladimir Putin was "winning" and that the Republican Party had completed its transition to the "party of traitors".
One lone user took a slightly more forgiving approach and criticized the media for attempting to brand all Republicans with the same Russia-loving brush.
The t-shirts even sparked a debate about cultural and racial diversity in Russia when some on Twitter took them to mean that "racist" Trump supporters see Russia as a "white" country.
Luckily, some others stepped in to remind Twitter that Russia is actually an ethnically diverse country, despite popular misconception.
READ MORE: 'CNN sucks!' White House reporter gets harsh welcome at Trump rally (VIDEO)
You can share this story on social media: