Short sighted? Germany's state of the art Puma tank not suitable for tall soldiers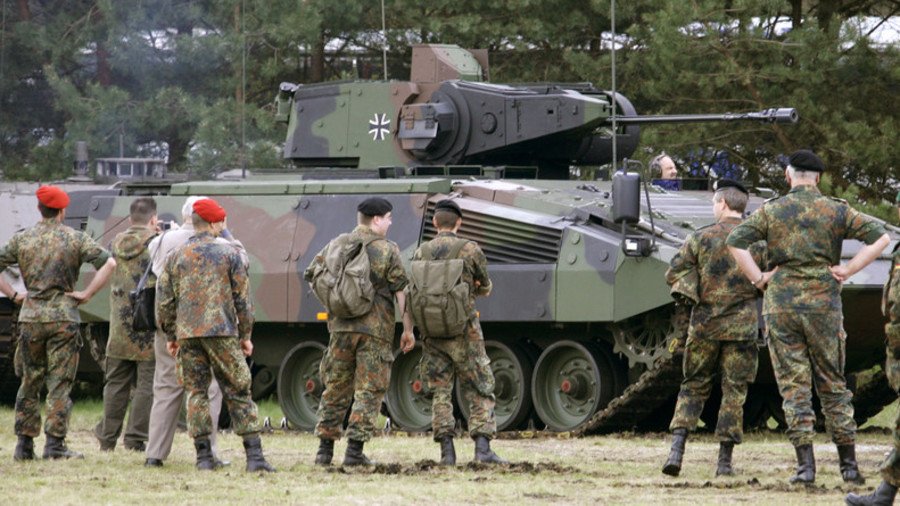 Germany's cutting-edge Puma vehicle might have trouble doing what it was designed for – carrying and protecting troops in the battlefield. Its troop compartment came to be too low for tall soldiers, a media report revealed.
The Bundeswehr is expected to take delivery of 350 Pumas – a state-of-the-art infantry fighting vehicle (IFV) jointly built by Kraus Maffei-Wegmann (KMW) and Rheinmetall corporations. But the newest weapons system – sometimes referred to as a light tank because of its size and weight – does not come without embarrassing setbacks, Die Welt newspaper revealed.
Tall soldiers should not expect comfy seats in Puma's crammed troop compartment. Its ceiling is so low that it can only seat six infantrymen not taller than 1.84m, the newspaper reported.
The 43-ton Puma is thought to be one of the world's best-protected IFVs, while still having a high power-to-weight ratio. It comes as a replacement to the Bundeswehr's ageing Marder which has been in use with the military for over four decades.
Marder's crew compartment is noticeably more spacious than that of Puma as it allows carrying soldiers who are 1.96m tall. Therefore, transitioning to the newer vehicle might not go as smooth as expected.
Die Welt suggests that German military planners failed to predict the rising height of future soldiers while using medical stats over 15 years ago, when the Puma was undergoing initial design phase. At the time, Puma developers purportedly decided to sacrifice inner space to better protection that included installing special anti-blast seats which made the compartment even narrower.
READ MORE: Crisis-hit German army to spend millions on weapons & hardware - report
German military says "it is still to be clarified" if the Puma can be redesigned in light of the revelation. Defense sources told Die Welt the incorrect size standards prompted the army to revise the list of equipment borne by Puma crews as well as to alter hiring standards.
Aside from the design flaw, the Puma project was also plagued by significant delays. The Bundeswehr must have received the first batch of vehicles back in 2015, but KMW and Rheinmetall shifted the delivery to 2020 citing production difficulties. Separately, the army demanded that the two companies address "unsatisfactory availability of spare parts and special tools," according to the newspaper.
Like this story? Share it with a friend!
You can share this story on social media: