Crisis-hit German army to spend millions on weapons & hardware - report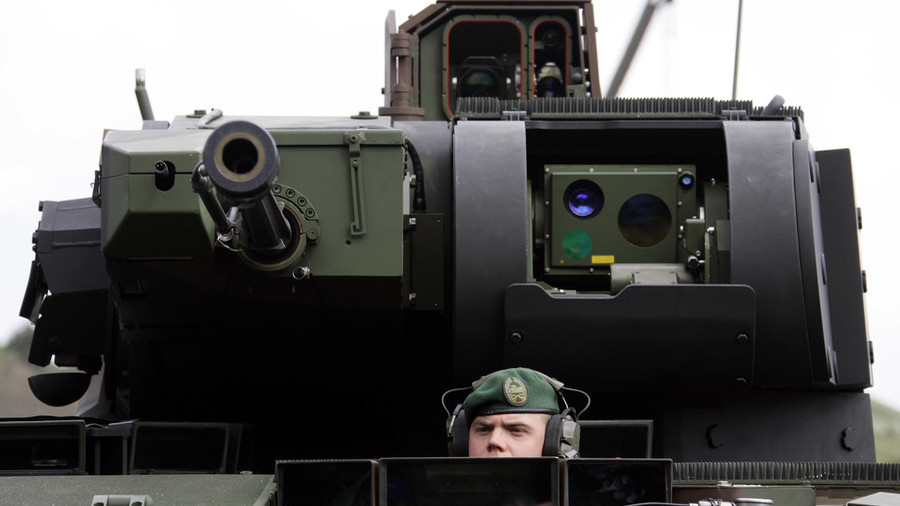 The German army is reportedly planning to spend millions on brand new rocket launchers, drones, helicopters and cargo aircraft to bridge gaps in its arsenal as the US pressures Berlin to do more for defense.
Germany's Defense Ministry plans to purchase 18 items each costing more than €25 million (US$30 million), according to Handelsblatt and Bild. The list is, however, "preliminary" and may be altered, depending on the budget for 2018. It includes a number of MARS multiple launch rocket systems, seven rescue helicopters and six US-made C-130J Hercules cargo planes, Bild reported.
Heavy armor aside, a leasing contract for Israeli-built Heron TP reconnaissance drones is also on the Bundeswehr's wish list, as are upgrades for Puma armored personnel vehicles and a maintenance contract for NH90 helicopters.
The army will also invest in developing a new radar for the Eurofighter Typhoon jet, telecommunication equipment for navy warships as well as new uniforms and protective gear, according to Zeit newspaper.
The improvements were considered after the German Defense Ministry came in for heavy criticism regarding its 'dramatically bad' equipment and operational capability. After the end of the Cold War, Germany radically cut its military budget. Pushed by US President Donald Trump, who has blasted Berlin for "paying far less than they should" for NATO and military issues, Germany reconsidered its investment in armaments.
Chancellor Angela Merkel's pledge to boost Germany's military budget followed Trump's calls for NATO members to meet the defense spending target of 2 percent of GDP.
Members of Germany's Social Democratic Party (SPD) had sent "a clear no" to Trump's calls to pump billions into massive armament programs, and denounced Merkel for kowtowing to the US president.
In 2017, then Foreign Minister Sigmar Gabriel warned Merkel not to "kneel" before Trump in attempts to "appease" him. The top diplomat called on the chancellor to withstand demands to bolster the military budget. He advocated that the role of the country must be of "the power of peace rather than an arms machine." Merkel and her ruling party "want to follow Trump's dictate and double Germany's military spending," the foreign minister argued.
You can share this story on social media: