Stag party paid 'drunk and hungry' homeless man to tattoo name & postcode on forehead (VIDEO)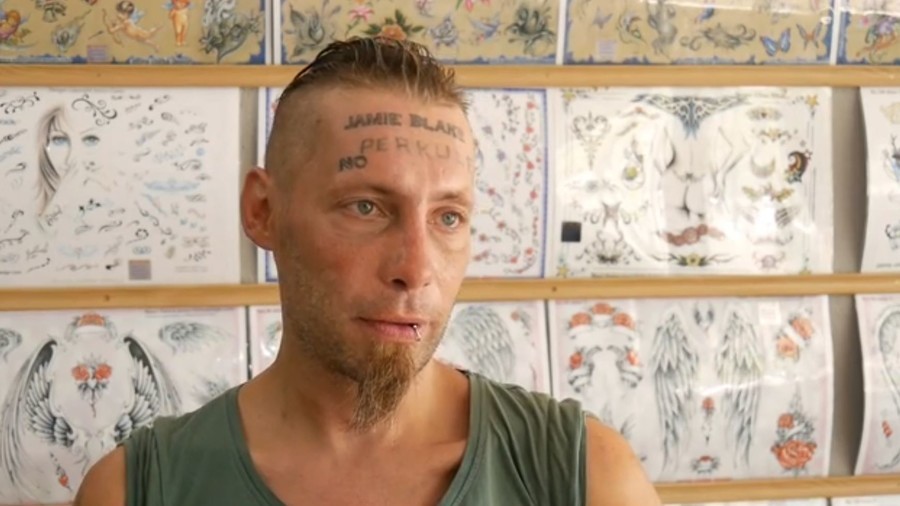 A homeless man who was paid €100 to get a stranger's name branded on his forehead has broken his silence to tell of how he was led to a Benidorm tattoo parlour and persuaded by members of a stag party to get the bizarre inking.
Known as Tomek, the Polish national has suggested he was drunkenly taken advantage of by a group of holidaymakers who paid him to get a tattoo of the name 'Jamie Blake' and a British postcode on his face.
READ MORE: Shocking discovery: Face-tattoos lower your chances of landing a job
"I was collecting money for food and drink, then one guy, a British guy partying with his friends, came up to me," Tomek explains. "He saw my first tattoo and he said 'I'll pay €100 if you tattoo something more on your forehead'."
Last month an image emerged online showing Tomek receiving a tattoo reading: "Jamie Blake, North Shields, N28." The image sparked outrage on social media, with the 'stag' whose name was inked on Tomek denying that he was part of the stunt.
Blake, who was celebrating in Benidorm at the time, told Newcastle's Chronicle Live that he was not with the large group when the incident happened.
READ MORE: Tattoo blunder: New Yorker writer resigns for branding wounded marine a Nazi
Benidorm's British Businesses Association has since hit out at the tattoo artist who completed the inking, labelling the business owner "irresponsible". A GoFundMe account has also raised more than €3,000 so that Tomek can have the tattoo removed and seek medical help in rehab.
Like this story? Share it with a friend!